Whole Lotta Music Goin' On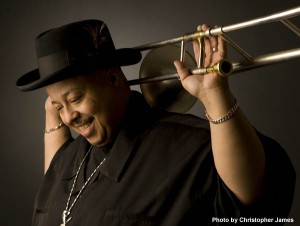 The bright spot in an otherwise drab and dreary spring is the group of high-quality new releases that have crossed my desk for review. I am especially pleased to see that Chicago labels are recording local talent — a trend I hope continues. As I have said many times before in this column, there is such a wealth of great musicianship lying fallow recording-wise in this town.
Right Here Right Now (Blind Pig) is the premiere release of blues, R&B, soul and funk meisters Big James And The Chicago Playboys (Appearing: Saturday, July 18th at Buddy Guy's Legends in Chicago). The Playboys, led by trombonist Big James Montgomery, are a hard-driving horn band that stays forever in the groove. The Playboys made a name for themselves in Chicago as the original the back-up band for late blues and soul singer Johnny Christian. After he passed away in 1993, the Playboys kept the flame burning in tribute. Throughout the '90s, they toured the world, backing Buddy Guy, Phil Guy, Nellie "Tiger" Travis, and Otis Rush. As their reputation grew, this tight unit began to tour and record on their own, emerging as one of the most sought-after blues, soul, and R&B bands in the business. The current lineup includes Charles Kimble (saxophone), Kenny Anderson (trumpet), Joe Blocker (keyboards), Mike Wheeler (guitar and vocals), Larry Williams (bass), and Cleo Cole (drums). This is one aggregate of masterful musicians who collectively and individually bring impressive chops and years of experience.
Montgomery is a remarkable songwriter who has penned eight of the 11 songs on the CD. The title track is incisive, uptempo modern blues that explores the world we find ourselves in now: "See the world has really changed/Oh my God, it's insane." He touches on current and especially vicious societal ills, punctuating each with the refrain, "Right here, right now, some way, some how . . ." urging us to come together to make a positive change. Montgomery lends a funky jazz-inspired trombone solo to "A Mama Like Mine," a heartfelt tribute to his mother. "On The Grind," about staying on his challenging musical path, includes a rap by Derrick "D-Mose" Moseberry. The frontman sings his blues with a soulful, gritty voice that is reminiscent of the late Luther Allison, especially on soulful and funky covers by Bobby Bland, Tyrone Davis, Parliament, and The O'Jays.
MORE NEW RELEASES: Brand New Blues (MC) is the first solo release for Neville Brother Cyril Neville in eight years. Another artist who always makes sure to keep it real, Neville is the most outspoken of the brothers, and the one who seems to revel the most in the rich traditions of his New Orleans musical heritage. Brand New Blues contains a heady mix of blues, funk, and soul. His husky, soulful voice burns through original material and cover tunes with the same intensity that he has brought to The Meters and The Nevilles. Guest appearances include brother Art (organ), nephew Ivan Neville (organ), Ian Neville (guitar), Tab Benoit (guitar), Waylon Thibodeaux (washboard), and Jumpin' Johnny Sansone (harmonica). Comprising equal parts original material and covers, Neville's vocals are positively chilling on Bobby Bland's "I'll Take Care Of You." (Appearing: Saturday, July 18th at Space in Evanston.)
Pentatonic Wars And Love Songs (Telarc) is singer/composer/multi-instrumentalist Otis Taylor's latest outing for Telarc. Taylor writes compelling songs about love in all its triumph and tragedy, from the pensive opener "Looking For Some Heat," about a man looking for some love and sunshine, to the tragic "Lost My Guitar," a song based on a true story about a woman whose preschool daughter was tragically killed in a car accident. The guitar is a metaphor for the lost child.
The album sends Taylor in a new direction. He has put the banjo down, preferring to explore a different musical tapestry woven with the inclusion of Spanish flamenco guitar (performed masterfully by guest guitarist Gary Moore on "Sunday Morning"), and odjembe drumming (by percussionist Fara Tolno on "Mama's Best Friend"). Daughter Cassie Taylor's sweet and haunting lead and background vocals enhance the mystery throughout. Taylor's unique way of telling the many stories of love reminds me of abstract painters such as Pollack, Kandinsky, and Picasso. Words and music blend into a mélange of sound, poetry, and color.
Lay Your Burden Down (Alligator) also finds R&B and zydeco master Stanley "Buckwheat" Dural Jr. heading in a new musical direction. The uptempo, "bon-ton roulette" tunes that originally defined his band, Buckwheat Zydeco, are still here ("Throw Me Something Mister" and "Ninth Place"), but overall the songs are less about partying and more about love and introspection. It is evident that Hurricane Katrina is much on Louisianan Dural's mind. He opens with a rocked out version of Memphis Minnie's "When The Levee Breaks," featuring guest guitarist Sonny Landreth, and closes with an original and poignant instrumental, "Finding My Way Back Home." Dural mixes his original material with covers by J.J. Grey, Jimmy Cliff, Bruce Springsteen, Captain Beefheart, and Warren Haynes, who wrote the title track and also guests.
Socalist Zora Young's Sunnyland (Airway) is her all-star tribute to late, great barrelhouser Sunnyland Slim. Produced by former band member, Sunnyland devotee, and sax player Sam Burckhardt, it stars legendary guitarist Hubert Sumlin, Sunnyland alums Steve Freund (guitar), Bob Stroger (bass), and Kenny Smith on drums, and Barrelhouse Chuck on piano. This solid, Chicago blues outing romps from beginning to end and is a fitting tribute to the old master and a much welcome showcase for Young's ever-soulful vocals.
— Beverly Zeldin-Palmer
Category: Columns, Monthly, Sweet Home