Magnolia
(Barsuk)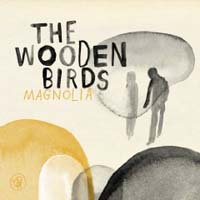 Ain't no party like a dinner party, 'cuz for a dinnerpartyyouneedaquietCD that don't stop.
Appearing: Saturday, June 20th at Schubas in Chicago.
See how we pushed all the letters together in the first line? Improvisation. The moment needed a spontaneous decision and we delivered, making you think that we procrastinated but have the talent to think on our toes. There aren't many such moments on Magnolia, the debut album from Andrew Kenny's new band, The Wooden Birds.
Kenny's previous brush with indie notoriety was his partnership with Death Cab For Cutie's Ben Gibbard on the since-abandoned "Home" series of split singles. Back then it was difficult to differentiate his songs from Gibbard's, and now it's as if he wants to further the confusion by dragging in Iron & Wine. Magnolia sports the same horse-walkin' gait as those early I&W albums, with inoffensive, hushed melodies that are perfect for when you need an hour of unrelenting but unobtrusive aesthetic. Even the slightly controversial "Seven Seventeen" (which comes off as a more Harold & Maude-ish "she was 70/I was 17") fails to grip. Clearly this was all part of Kenny's plan and he executed with disturbing tranquility. Magnolia organic acoustics feel effortless and pure, but, like a bouquet of daisies, uninspired.
5
— Steve Forstneger
Click here to download "False Alarm."