Logan Square Auditorium, Chicago
Thursday, June 25, 2009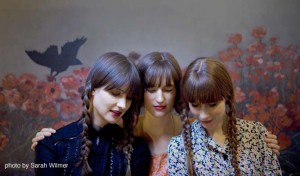 Slow and steady has won the race for Au Revoir Simone. The fragile-looking trio seemed to have signed their own death warrant by holding fast to low-rent synths, individual and group introversion, and waif-y heroin chic. But this spring's Still Night, Still Light affirms their blueprint.
Don't stand on your seat just yet. Anyone buoyed by seeing the band bounce onstage with Peter Bjorn & John during live versions of "Young Folks" or having heard their turn on Friendly Fires' "Paris" can go back to bed, because that's where Still will send you anyway. But, unlike certain 7-month-olds we know, you'll go voluntarily.
The band's lullabies (particularly "All Or Nothing," "The Last One," and "Take Me As I Am") form the album fabric, so songs like "Another Likely Story" can give their version of the "Paris" affair, or "Knight Of Wands" can open those synths up and see what they can do. While not even considering making a motion toward suggesting the mold needs breaking, Simone gently push forward, hopefully to a point where jumping in is the only option left.
Findlay Brown opens.
— Steve Forstneger
Category: Stage Buzz, Weekly