Mumiy Troll
Empty Bottle, Chicago
Friday, January 30, 2009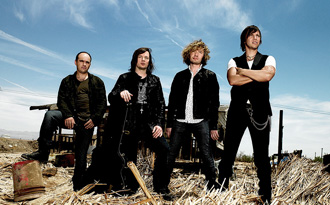 At first glance, "Mumiy Troll" looks like a trainwreck of an attempt by a foreign band to craft an intimidating English name. But a) the name is actual Russian and b) beginning from behind the Iron Curtain, it's possible the group never harbored hopes of reaching Western audiences at all.
Currently one of the biggest bands in reassertive Russia, Mumiy Troll are making their premiere U.S. appearances with this tour to preview their first Stateside release, Comrade Ambassador. A lifetime away from anything this country produces, the album mingles anything it can get its hands on, which, oddly, ends up sounding a bit like Café Tacuba cruising the back alleys with frontman Ilya Lagutenko masquerading as Tindersticks' Stuart Staples. Yet "Burn It All" romps with M.I.A.-like bhangra abandon, while "Mothers And Daughters" and "Drunken String" manage to rock without overtly rocking. The only misstep is when they put their Western foot forward on a (all of Comrade Ambassador is Russian-sung) cover of "California Dreaming." Sarah Palin should have stopped it from invading our airspace.
— Steve Forstneger
Category: Stage Buzz, Weekly