Funeral For A Friend
Metro, Chicago
Friday, January 30, 2009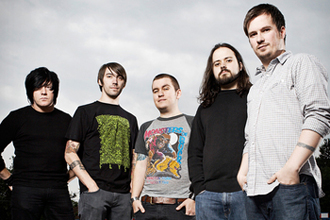 Welsh screamo act Funeral For A Friend never broke through in the States the way they have in the U.K. Which is a shame, as the group craft smarter, catchier, and overall better songs than most their harder metalcore peers on this side of the pond. And while the band occasionally join up as support talent on larger treks like Taste Of Chaos or Warped, proper U.S. headlining gigs are few and far between. Friday's Metro show is all the more noteworthy then, as Funeral's next Chicago performance could theoretically end up being quite a ways away.
The group burst out of the same scene as acts like Lostprophets with their 2003 debut, Casually Dressed & Deep In Conversation, establishing their foundation of scream-laden yet melodic riff-heavy rock. On 2005's Hours, the outfit balanced crunchy anthems like the undeniable "Streetcar" with anthemic ballads like the sweeping "History." Two years later, the band softened their edges on the uneven journey-centric concept album, Tales Don't Tell Themselves, before revisiting their roots on 2008's Memory And Humanity. It's a record that finds Funeral For A Friend sounding more like themselves than ever: at least, themselves from 2003. And while the album may not achieve the levels of constancy their debut effort so successfully did, it does manage to produce some noteworthy offerings nonetheless. Opener "Rules And Games" especially finds the group embracing unabashed and soaring crunchiness, while "Kicking And Screaming" is as irresistible and immediate as anything the group have written to this point.
With four studio albums in six years, the band have a wealth of material to cherry pick from for Friday's performance, and could potentially spend some time revisiting each offering. Either way, whatever the set selection, it's more than likely going to have to tide fans over for the foreseeable future.
The Sleeping, Emarosa, and This Is Hell open.
— Jaime de'Medici
Category: Stage Buzz, Weekly