HOTTIE AMPLIFIERS
2009 Hottie Custom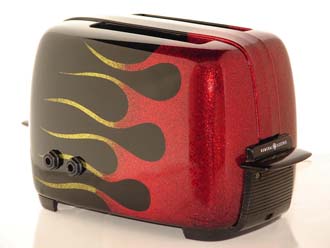 Made from the body of a vintage General Electric toaster (you heard right), Hottie Amplifiers has introduced an updated version of its original Hottie Amp with the 2009 Hottie Custom. These limited-edition amps boast all the wild features of the original Hottie Amp but are offered in a custom sparkle finish. Hottie Amplifiers are solid-state units fitted in the aforementioned vintage American toaster and powered by a 9-volt battery. They use a 6-inch Jensen MOD speaker and have an output jack to drive an external speaker cabinet. Hottie Amps will power any four, eight, or 16-ohm cabinet. List price $329 (compared to $249 for the original Hottie). Visit www.hottieamps.com for more information.
V-PICKS
Big Fattie
V-Picks says you don't need to spend thousands of dollars on a new amp to get the tone you want: All you need is a Big Fattie guitar pick. This Fattie is different than the ones you smoked in college, "it's now about giant mids, a huge, big, beefy low end, and a sweet, singing high end." V-Pick's carefully researched design (thickness: 5.85 millimeters) and unique polymer material increase your volume dramatically and redefines the dynamics of your tone for an acoustic or electric guitar. Suggested retail is an equally fat $20. Check out at www.v-picks.com for all the details.
HUTCHINS
Brian Jones Signature Guitar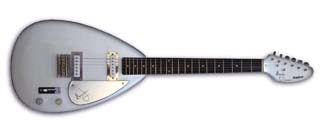 Taking the blueprint from The Rolling Stones' Brian Jones' mid-'60s teardrop guitar, (one of the most unique guitar designs of all time), the British-made Hutchins' Brian Jones Signature Series is available now in the United States. The guitar features a bolt-on neck, two Entwistle single-coil pickups, a premium basswood body, rosewood fretboard, and a British-tweed signature hardshell case. An authentic Jones signature is on the pickguard and headstock. The guitar is available in a vintage white finish, and is a must for Rolling Stones fans with an extra $1,200 in their pockets; that includes the hard case. See the piece at www.hutchinsguitars.com.
PEAVEY
Vypyr 15
Peavey's new Vypyr 15 amplifier features 12 popular amp models with 11 editable preamp stomp box and rack effects that can create 400 programmable presets. An on-board chromatic tuner (the Vypyr 30, 65, 75, 100, and 120 include an onboard looper) studio-quality headphone out, tap tempo, dual-parameter effects control are also configured. A built-in USB 2.0 output on most models is recognized by both PC and Mac computers as an audio device. This entry-level Vypyr offers 15 watts of power with an 8-inch custom-voiced modeling speaker, four channels with true-analog distortion, and an MP3/CD/Aux input (MIDI input is available on all other models). But, retail price is only $99 for the Vypyr 15, so visit www.peavey.com for more information.
NEWS & NOTES
Early Rudy Sarzo bassist Rudy Sarzo's autobiography, Off The Rails: Aboard The Crazy Train In The Blizzard Of Ozz (Too Smart! Publishing), about life on the road with Osbourne and guitarist Randy Rhoads is now out on paperback. Sarzo's alle-ged aim was to clear up inaccurate stories surrounding Rhoads' untimely death. The publisher, however, clai-ms this is the book Sharon Osbourne (rumored to have been romantically involved with the guitarist), doesn't want you to read.
Longtime local guitar maestro and Cort guitar endorser Eric Mantel joins Neil Zaza and Florian Opahle to travel Poland this month as part of the F3 Tour. Visit www.myspace.com/mantel or F3tour.com for details.
– David Gedge