AT&T hypes its new U-verse digital TV system as "advanced TV that brings consumers a revolutionary new ent-ertainment experience that's cooler than cable."
U-verse boasts something like 900 channels (including more than 41 in high definition) and a DVR that can record four shows at once.
But activists say it doesn't give consumers easy access to government, educational, and public-access channels. You know, the ones where you can watch local concerts and city council meetings and find out about school closings and emergency alerts.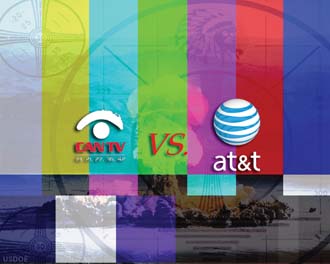 Those channels are often the only place where such information can be found. But – as subscribers in Lake County and the western suburbs have learned – on U-Verse they can be hard to find, slow to load, and lower quality than commercial counterparts.
"Some of what is going on is segregating the access channels off the lineup with substandard functionality," says Barbara Popovic, executive director of Chicago Access Network Television. In September, she spoke in front of a U.S. House subcommittee on behalf of the Alliance For Community Media and Alliance For Communications Democracy, organizations devoted to public, educational, and government (PEG) access. According to witnesses, the PEG stations also lack closed captioning, are not included in the program menu, and cannot be recorded via DVR.
"In the testimony, I held up a channel card from the western suburbs, which had close to 350 channels listed," says Popovic. "There was not a single government or educational channel listed. But Illinois law is clear: it has to be in the channel listings; it has to be handled in a manner equal to commercial channels. It does not do that."
A spokesperson for AT&T says the bit rate and resolution of PEG programming have been increased, making for improved picture quality, and that PEG channels can be recorded using a commercial DVR.
PEG channels came out of the 1984 Cable Act and have been historically easy to find – even when systems had fewer channels.
"Now we're talking about a 1,000-channel system, and these public channels are being removed," says Popovic.
She says the problem stems from the Federal Communication Commission's 2006 video-franchising orders, a regulatory shift that did not safeguard PEG access. States began passing laws that removed local authority, weakened consumer protection, and generally undermined PEG access. "As cable operators opt into these new state laws, we're seeing a reduction in pre-existing PEG obligations of incumbents, like studio closures in Michigan, Indiana, and other states," Popovic testified.
The hearing resulted in a letter to the FCC, asking it to investigate the treatment of public-access channels. Leading the charge were subcommittee co-chairs José E. Serrano (D-NY) and Illinois 10th District Congress-man Mark Kirk. "From what I can tell, they want to be sure their constituents can communicate using these media," says Popovic.
Illinois law states these channels must exist. "People who are concerned can file complaints and let the attorney general's office know that non-commercial channels are important to them," says Popovic. "They should also tell their own state legislators, who did pass this law and expect it to be followed."
She continues, "If you look at issues around media consolidation, preserving public space in the media is of critical importance to all of us. And there's precious little space to speak of. This is all about preserving that as we move into the digital age – and making sure artists, educators, and the government are not left behind using hyped-up excuses about how technology is changing. I don't care what the technology is, we need to preserve this space for the public."
A CLASS ACT CALLS IT QUITS: We didn't mourn when sports writer Jay Mariotti abruptly left the Chicago Sun-Times, but we'll sorely miss TV and radio critic Robert Feder, who spent the past 28 years doing a stellar job covering the ins and outs of radio and TV in Chicago.
Feder announced he was stepping down with a full year's pay and benefits and would explore other options. "Covering the minutiae of the broadcast business isn't as much fun as it used to be," he wrote in his column.
He was one of the most honest, straight-shooting reporters in America. Unlike others who cover media (myself included), he refused to go on TV or radio because it would be a conflict of interest. (Full disclosure: Feder has been a mentor of mine since 1992.)
We'll miss how he stood up for fairness and integrity – like this brief, well-placed jab in a recent piece about cutbacks at Metro Networks/Shadow Broadcast Services by parent Westwood One, which will result in the loss of 300 jobs, including at least five on-air Chicago staffers.
"What makes these job losses especially galling is that so many local stations rationalized the elimination of their own news operations in the first place by outsourcing those functions to bare bones Metro/Shadow," he wrote.
"Shame on all of them."
ODDS N SODS : Paste and and online news site Huffington Post have both launched Chicago outlets . . . They're baaack: The old WSCR-AM duo of Dan Jiggets and Mike North will reunite this January in a morning drive slot on Comcast Sportsnet Chicago . . . Former Chicago Sun-Times city council reporter-turned-comedian Ray Hanania has a new 8 to 9:30 a.m. show on west suburban WJJG-AM (1350) . . . Former WGN-AM (720) sports announcer Chuck Swirsky has returned from a decade in Toronto to do play-by-play for the Chicago Bulls on ESPN'S WMVP-AM (1000) . . . Atlanta-based Creative Loafing Inc., the company that bought the Chicago Reader in 2007, filed for Chapter 11 bankruptcy protection. "This is not a management issue. It's strictly the economy tanking," explained company CEO Ben Eason. Phew – that's a relief!
– Cara Jepsen