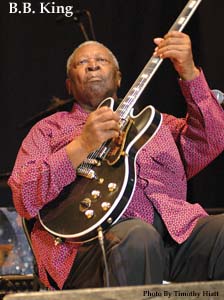 Many CDs have been unreviewed during the past few months as I have focused more on the news side of the business. In a slight change of format, I will devote this entire column to playing catch up with pithy reviews of CDs from legends and newcomers alike, covering the gamut of traditional blues to soul, R&B, rock 'n' roll, swamp boogie, and Chicago blues.
B.B. King's One Kind Favor (Geffen) is a tribute to the blues master's rich musical past. With the help of producer T Bone Burnett, King created an album of traditional blues with a contemporary feel. He eschews the usual rock-star guests, preferring to revisit his past in intimate fashion and focus on the music and his interpretation of it. He augments his regular band with three special guests, drummer Jim Keltner, stand-up bassist Nathan East, and flawless pianist Dr. John. The title of the CD is a line from the album's first track, Blind Lemon Jefferson's "See That My Grave Is Kept Clean."
One Kind Favor is King's musical autobiography. Jefferson was an early influence, followed by Lonnie Johnson ("My Love Is Down" and "Tomorrow Night"), T-Bone Walker ("I Get So Weary"), The Mississippi Sheiks ("The World Is Gone Wrong" and "Sitting On Top Of The World"), Big Bill Broonzy ("Backwater Blues"), Howlin' Wolf ("How Many More Years"), Oscar Lollie ("Waiting For Your Call"), John Lee Hooker ("Blues Before Sunrise"), Lee Vida Walker ("Get These Blues Off Me"), and Shifty Henry ("Midnight Blues"). By age 82 most folks have long retired, but King is still going strong. He can still shout the blues, and his guitar playing is as sweet and deeply affecting as ever.
Elvin Bishop takes a different tack than King on The Blues Rolls On (Delta Groove), looking backward toward his early inspirations and forward to the generation of musicians who will carry it on. He has some impressive help thanks to multigenerational guests including the aforementioned King, James Cotton, Derek Trucks, George Thorogood, Warren Haynes, Kim Wilson, Tommy Castro, Ronnie Baker Brooks, Angela Strehli, John Németh, The Homemade Jamz' Blues Band, R.C. Carrier, and Andre Thierry. Blues Rolls On reflects Bishop's delight in his 45-year-plus musical journey. In the album liner notes, he boasts he is probably the "only guy in the world who has played with Big Joe Williams, Little Walter, Jimi Hendrix, and Derek Trucks." The Blues Rolls On rocks from start to finish, imbued with Bishop's fun-loving spirit and impeccable blues, R&B, Zydeco, Southern soul, and rock 'n' roll credentials. Especially haunting is the autobiographical track "Oklahoma," featuring Bishop's gritty vocals, otherworldly wild slide guitar, and foot-stomping accompaniment.
Midnight Blues is Magic Slim & The Teardrops' eighth recording for Chicago's Blind Pig Records. It finds the larger-than-life bluesman and his band up to their old tricks, creating danceable, gritty Chicago-style blues with a bit of country and R&B. This time out Slim is joined by special guests James Cotton, Elvin Bishop (quite an incestuous recording community, isn't it?), Lil' Ed, Lonnie Brooks, Otis Clay, Gene Barge, and the Chicago Rhythm And Blues Kings' horn section. Slim blasts out the gate with the original track "Let Me Love You," in which he employs his best Howlin' Wolf growl. He channels Muddy Waters on "You Can't Lose What You Ain't Never Had," with spine-tingling accompaniment by Cotton, whose harmonica solo is one of the album's highlights. Brooks offers a deep blues solo on "Spider In My Stew," while Lil' Ed channels the late Hound Dog Taylor on "Give Me Back My Wig." Resident Teardrop guitarist Jon McDonald evokes a smoky bar circa 1950 with his solo on Little Milton's "Lonely Man." Slim's gritty vocals and electrified Mississippi-blues guitar dominate throughout, as they should. He is especially soulful and sensuous on the original "What Is That You Got."
2 Man Wrecking Crew (Delta Groove) is haunting, north Mississippi hill country blues from 30-something drummer/ vocalist Cedric Burnside and guitarist/vocalist Lightnin' Malcolm. Burnside is the grandson of the late legendary R.L. Burnside and grew up surrounded by the music of rural Mississippi and the more contemporary sounds of funk and hip-hop. Malcolm was raised in rural Missouri where he was introduced to blues as a child. He eventually landed in north Mississippi where he discovered the eerie and compelling sounds of R.L. Burnside, Junior Kimbrough, and other north Mississippi musicians. 2 Man Wrecking Crew is a thoroughly enjoyable meshing of the traditional and contemporary, couched in that unmistakable, spine-tingling swampy, rural-blues vernacular.
Vocalist/harmonica player Curtis Salgado is back with a new CD, Clean Getaway (Shanachie), and a new lease on life. Salgado survived a vicious battle with cancer, which, despite a successful liver transplant, metastasized into one of his lungs. With the help of famous friends Robert Cray, Steve Miller, Bonnie Raitt, and Taj Mahal, Salgado was able to survive and thrive, eventually returning to the studio and stage. Salgado is a soulful vocalist and harmonica player who spent six years touring and recording with the Robert Cray Band. He is joined on Clean Getaway by The Phantom Blues Band that backed Mahal on his Dancin' The Blues CD. Highlights include the funky Johnny "Guitar" Watson-inspired title tracks, "Clean Getaway" and "My Confession," as well as the obscure Little Richard rocker, "I Don't Want To Discuss It."
– Beverly Zeldin-Palmer
Category: Columns, Monthly, Sweet Home