Steve Cropper
Staxing The Deck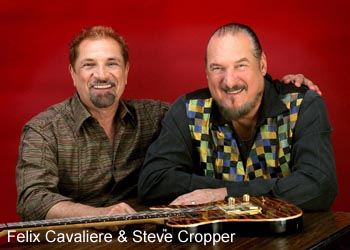 Once a music journalist has been around the block a couple times, it's inevitable that certain patterns emerge. For example, it's a sure bet at some point a baby band will sound uncannily like "Nuke" LaLoosh in Bull Durham: "Well, we're just going to tour really hard and hope our CD sells enough that we get to make another." An established artist, on the other hand, is single-mindedly able to turn the most innocuous question into a chance to talk about their newest project; to wit: "The weather? Fine, but man, was it was ever raining when we recorded track three." But it's the Living Legends — the pioneers who shaped, crafted, and are included in every encyclopedia about rock 'n' roll — who give a music journalist headaches. These artists have been asked all the questions thousands of times. There's not one, however brilliant or, for that matter, dumb, they haven't already answered. They know that. You know that. So they counter every question with polish. Precisely. Practiced, but with a hint of something new to keep everyone awake (if not exactly bouncing on their toes).
Unless they're Steve Cropper. By any definition Cropper is a living legend. He wrote or co-wrote "Green Onions," "In The Midnight Hour," "Knock On Wood," "Soul Man," "634-5789," and "Born Under A Bad Sign." Part of Stax Records almost from the beginning, he was their A&R, engineer, producer, and, as part of Booker T & The MG's, co-creator of the groove-dominated, lean, punchy Stax sound. Cropper has influenced more guitarists than anyone can quantify, and he has been inducted into both the Rock And Roll and Songwriter's halls of fame. And yet he answers each question like it's brand new. His stories don't have the sheen of practice; his replies are genuine, even when he's retelling old yarns.
Cropper loves whatever he's doing, a feeling he appropriately extends to his new album with Felix Cavaliere (The Rascals), Nudge It Up A Notch, produced by Jon Tiven. "For Felix and I," Cropper explains, "this project was a chance for us to go back and do what we did best back when we did it. He still goes out and does his songs, the Rascals tunes, and I go out with Booker and The Blues Brothers and do all those great songs. But we don't get to write new music because there's really not a market for it. So we're creating something new here. When Concord got involved with revivin' the old Stax label and signing new acts rather than just releasin' old stuff and repackaging old songs, this was a golden opportunity."
The album contains just what you would expect from two pop/soul masters. Instrumentals and vocals alike (all co-written by Cropper and Cavaliere) have an unmistakable groove, and both musicians are in fine form. They're backed by a strong band (Chester Thompson, drums; Shake Anderson, bass; Mark Williams and N'nandi Bryant, backing vocals) and, most refreshingly, there's nary a guest artist in sight.
"When it reached a point where we'd written quite a few things," Cropper relates, "we said, 'Well let's keep continuin' and maybe we'll wind up with enough songs for an album.' We were thinkin' in terms of maybe just putting it out on the Internet for people to download if they were fans of Felix Cavaliere and Steve Cropper." Cropper laughs at that. "We'll see what happens with it. I know it's good music. It's no question about how good it is, but can [Concord] get it advertised and get it out to the right ears that might want to buy it?"
"Right ears" has been an issue for Cropper before. "I let two generations of music get by me because I didn't really care about making that kind of music," he says. "One of them was when disco came in. That sort of shot us all in the foot and killed R&B in the early '70s. Then rap comes in and there you go again. I have never been as successful doin' brand-new material with anybody than I did back in the '60s with Stax because the whole market has changed. Now I know if I could get a song that I really believe in, that I think 'Boy, this is the thing. This is going to hit it,' and get the airplay that I used to get, I guarantee it would sell. Big time. But I can't get that."
What Cropper has been able to do, however, is bring his masterpieces to new audiences, letting each generation of newbies rediscover them in a way they can accept. The Blues Brothers is, of course, Exhibit A. The Blues Brothers produced three albums, two films — and a lot of flack for Cropper and bassist Donald "Duck" Dunn for backing "comedians who were making fun of pure, real, rhythm & blues."
"Yeah, yeah," Cropper says. "Eat that one. One of the biggest movies ever made in Hollywood was The Blues Brothers and it got some of the worst reviews on the planet. "
— M.S. Dodds
For the complete interview, grab the September issue of Illinois Entertainer, available free throughout Chicagoland.