The Million Dollar Quartet Lives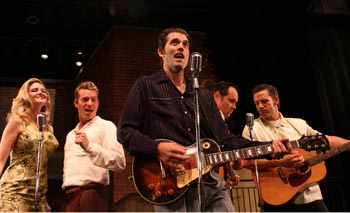 Move over Jersey Boys. There's a new sweet-sounding gang of four rolling into town — this time from the South. Million Dollar Quartet brings to life the extraordinary afternoon on December 4th, 1956 when Elvis Presley, Johnny Cash, Jerry Lee Lewis, and Carl Perkins all converged on the birthplace of rock 'n' roll, Memphis' Sun Studio, for an impromptu jam session.
Making its Midwest debut at the Goodman Theatre's Owen Theatre on September 26th through October 26th, this unique musical combines the immediacy of a live rock concert with the emotional highs and lows of a primetime sitcom. Except in this case, the drama stems from events mired in real life, not just some made-up scenarios between fabricated characters.
On the day in question, Presley stopped by the studio to see owner/record producer Sam "Father Of Rock 'N' Roll" Phillips in the middle of a Perkins session featuring the up-and-coming Lewis on piano. When Johnny Cash popped in to complete the lineup, Phillips — never one to miss a golden opportunity — invited the local media over to document this meeting of rock music's tremendous minds. The resulting coverage spawned the iconic photo of a baby-faced Presley sitting at the piano with the others hovering around the future King. Luckily, Phillips also pressed the record button, so the entire affair — songs and banter — lives on, audibly.
Directed by Eric Schaeffer and Floyd Mutrux, Million Dollar Quartet seeks to supplement those recordings with a fly-on-the-wall perspective of the four friends hanging out and shooting the shit.
Declaring the production his "passion," co-producer John Cossette relishes the five to six years he helped develop and nurture Million Dollar Quartet — a far cry from the intense seven-week deadline he's normally given as a producer to cast and stage the annual television broadcast of the Grammy Awards. From the moment filmmaker Mutrux walked into his office with the idea to successful show runs in Florida and Washington, Cossette remains enamored with this little piece of history jumping from CD to the stage. And not just because his career in the music industry brought the second-generation Hollywood executive face-to-face with the real deal, most recently with Lewis at last February's ceremony.
Million Dollar Quartet highlights a purer time in rock history and in the careers of these legends. This was before Presley plumped up and took to wearing white, sequined jumpsuits, before Lewis stalled his rise to fame by marrying his 13-year-old cousin, and before Cash succumbed to the ravages of age.
For Cossette, this voyeuristic look into a past untainted by today's standard of excess offers audience members the chance to throw away their preconceptions of these well-known figures. Just as reading the last page of a mystery novel before cracking open the second chapter emphasizes the how more than the whodunit, knowledge of the musicians' fates only adds to the significance of this chance, once-in-a-lifetime meeting.
"You're seeing these guys before the demons started to hit them . . . and seeing them when they're young and just starting out," Cossette points out over the phone from his Los Angeles office. "Plus, you're listening to all that music."
Yes, the music. The challenge facing Million Dollar Quartet centers on how to present an actual band onstage without falling into the trap plaguing traditional musical-theater productions. The show eschews the tendency to have characters instantaneously break out into song mid-sentence to express some inner monologue with an unseen orchestra magically providing accompaniment. Instead, the four actors-turned-musicians or musicians-turned-actors (whichever camp the leads fall into) not only embody their parts, but learn to play like them too. Call it the rockabilly version of MTV's "Making The Band."
Musical Director Chuck Mead likens his role to that of "record producer" when guiding the actors through the show's 27 songs without sheet music or a score. "How do you write down 'Blue Suede Shoes?' It's all such [an] accident. There's so much improvisation that goes along with it that it's virtually impossible to write down," the frontman of Grammy-nominated BR549 explains by phone from his home in Nashville. "You almost have to do a Nashville chart system to make people understand it — which is a way of writing music down for people who don't read music like me."
Through marathon rehearsal sessions, Mead essentially turned the actors into a fully functioning band, setting up perimeters that allow the actors room to shift and alter their solos in the heat of the moment. "Every performance [is] sort of like a concert where it essentially is the same thing, but it's not and that's what makes it so exciting and that's what makes people want to come back to it," Mead says. "In previous productions they had a huge rate of people coming back to see it, maybe two or three times. Most theater productions, [once] you've seen it, that's the way that it is."
Reprising the role of Johnny Cash in the Chicago production, Lance Guest recalls super fans in Washington returning up to five times, which caught The Last Starfighter actor by surprise. "I do small theater in L.A. That never happens!" he exclaims, but admits the "good time music" coupled with the story brings folks back.
Playing guitar since age 9, the role of Cash seemed destined to be Guest's. He participated in early table readings of the show before the decision to have the actors take up instruments was even made. "Johnny Cash is the first guy I grew up singing with 'cause . . . the first record album I ever owned was Johnny Cash At San Quentin. So I pretty much memorized all the songs and all the patter in between, so I had a sense of how he talked from a fairly early age, like prior to my voice changing," Guest recalls. "So when it came time to do it . . . I could sing like that pretty much as a part of my vocal development as a person."
Signing up for another stint as Cash was a no-brainer. "For me, it's a challenge and a joy. It's a joy to go up there and be Johnny Cash and sing those songs," Guest admits. "Who doesn't want to do that? I feel like we certainly get to play rock stars for 90 minutes. It's just something about playing that music that's very necessary."
But Guest quickly points out the show is not a collection of impersonations — it's a fluid retelling of a night that, in Mead's point-of-view, brought the "Mt. Rushmore of rock 'n' roll" under one roof. Citing artistic license, Million Dollar Quartet turns "Brown-Eyed Handsome Man" into a full-blown number when the Chuck Berry tune only made a brief appearance and includes Lewis' "Great Balls Of Fire."
"If you listen to the tapes of the original recording, it's just a bunch of guys messing around. They sang all those things that they felt like singing. It's not like they all sang their hits," Guest says. "We've sort of contrived it so . . . they sing their hits."
"They didn't do 'Great Balls Of Fire,'" Mead adds. "That song hadn't even been recorded yet, but we put it in the show because if Jerry Lee's there, you've got to have 'Great Balls Of Fire.'"
Running 90 minutes without an intermission, Mead calls Million Dollar Quartet an "onslaught" of instant gratification. "People are really gonna like this play because it's got a lot of heart and soul and tons of music and it's exciting and it's like a little piece of history that maybe you've heard about or maybe you haven't heard about," Mead says breathlessly.
Cossette hopes to use the Chicago run as a spring board to raise the show's profile on an international level. "We'd like to have a company in London. We'd like to have a . . . company maybe in Toronto," Cossette fantasizes. "We're thinking big and who knows? Sam Phillips thought big. So can we."
— Janine Schaults