John Mellencamp
Charter One Pavilion, Chicago
Tuesday, July 22, 2008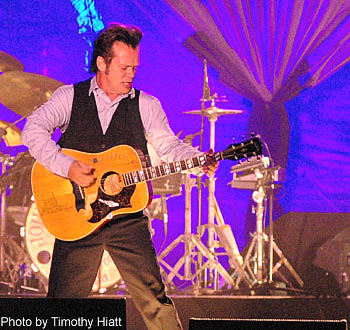 Often, all it takes is a little alone time to work out the kinks in an unruly or crabby attitude. Time-outs work wonders for children, then why not for Indiana-native John Mellencamp? Far from throwing any tantrums on a brisk Tuesday night at the Charter One Pavilion, Mellencamp and his six-piece band just failed to ignite any sparks within the show's first half hour. Despite the inclusion of regular heavy hitters "Pink Houses," "Check It Out," and "Paper In Fire," Mellencamp (decked out in a vest and greaser's pompadour) bordered on sluggish and uncommitted.
What a turnaround then, when the band retreated backstage, leaving Mellencamp with just his gravely, yet still-vigorous voice and acoustic guitar. Armed with mournful, world-weary ballads, the 56-year-old dared folks to sit down and forget the next beer run by transforming "Small Town" into a dirge and exploring hard-to-resist nostalgia on "Minutes To Memories." Instead of dancing in the aisles, the moment belonged to raising up prayers to Jesus — an act frequently executed on his latest in a long line of releases, Life, Death, Love, And Freedom (Hear Music). New, mortality-confronting tracks "Young Without Lovers" and "A Ride Back Home" took on extra significance in a stripped-down setting.
Following this intermission of social conscience, Mellencamp and co. plowed through a blistering "Rain On The Scarecrow," punctuated by sharp, slasher-movie squeals from Miriam Sturm's violin. A tub-thumping "Crumblin' Down," fist-pumping "R.O.C.K. In The U.S.A.," and an earthquake-size trembling "Authority Song" reminded the heartland of Mellencamp's rebellious streak while "Jena" wouldn't let anyone forget his unwavering liberal leanings. Written in response to last year's racially charged Jena Six trial in Louisiana, the track expertly utilized Andrew York and 35-year Mellencamp veteran Mike Wancic's fiery guitars.
Looking at Mellencamp now, the 1994 heart attack seems like a lifetime ago. Between jump-kicking on drummer Dane Clark's beats, dipping Sturm after an impromptu slow dance, and breaking out the "Swim," it's hard to believe it when he sings "Oh, yeah life goes on/long after the thrill of living is gone" during the obligatory "Jack And Diane."
'Cause this rebel still chases causes.
— Janine Schaults
Category: Live Reviews, Weekly