Cruefest
First Midwest Bank Amphitheatre, Tinley Park
Wednesday, July 16, 2008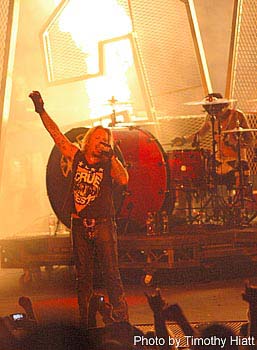 Metalheads young and old united last Wednesday for Cruefest, so named for headliner Motley Crue. With a bill running the gamut of metal sub-genres –Trapt, Sixx: A.M., Papa Roach, Buckcherry, and Crue — the crowd was a Mulligan Stew of characters, from 35-year-old yuppies in golf garb to 55-year-old bikers to goth kids to PYTs to moms with their 6-year-olds.
Trapt kicked the evening off at 5 p.m. while most showgoers were still buying drinks and finding their seats. Despite the heat, they rocked their alterna-metal hardest nonetheless, with radio hit "Headstrong" standing out among tunes from their surprisingly decade-long career.
It seems standard at outdoor amphitheater shows that opening acts get the short end of the sound-mix stick, and such was the case not only for Trapt, but for Crue bassist Nikki Sixx's side project, Sixx: A.M. The midrange seemed completely absent. Nonetheless, tunes from Sixx's The Heroin Diaries — a soundtrack to the book he wrote chronicling his ascent from the depths of drug abuse — were recognizable thanks to the hearty vocals of producer-turned-frontman James Michael. The threesome, completed by guitarist DJ Ashba (who is a native of Fairbury, Illinois, home of IE's own publisher emeritus David Roberts) translate what was only supposed to be a studio project very well, with vocal melodies recalling The Cult propped up against aggro guitars and beats a la Korn.
Papa Roach played the crowd like they were the headliners. Frontman Jacoby Shaddix whips, stomps, and slides all over the stage wild-eyed, entertaining the crowd for every second of their 30-minute set. The band's draw is their ability to write a contagious pop-worthy hook while maintaining metal's tension and angst. Not one song failed to satisfy; highlights were "Getting Away With Murder," "Forever," and ". . .To Be Loved," which will be on a record coming out in the fall.
Buckcherry played the favorites from their current multi-platinum record with their usual swagger — "Everything," "Broken Glass," "Sorry" . . . They played a new song from an upcoming album, "Too Drunk To Fuck," which is a humorous anecdote though a little lengthy in verse and a bit uncharacteristic for the band. Then, what seems to have become signature for Buckcherry shows, frontman Josh Todd speaks an apropos setup to the naughty hit "Crazy Bitch." This riff has changed over time, and this night it should have come with a X-rated warning.
Cruefest kicked off days after the release of Motley Crue's first studio record in more than a decade. All four original members — Sixx, guitarist Mick Mars, and rockers-turned-reality TV schlubs Vince Neil and Tommy Lee — have remained reunited since their 2005 tour. This band, who sat at the top of the '80s hair/cheese metal heap, have also managed to regain their stamina for the stage — their show is bigger than ever. These guys must have given up cheeseburgers and beer to be able to carry off an hour-and-a-half show with the same enthusiasm they did 20 years ago.
Behind the band were giant metal letters spelling out "Los Angeles" backwards. In true Crue style, there was plenty of pyrotechnics. They opened with "Kickstart My Heart," and the rest of the evening was filled with the hits — "Same Old Situation," "Live Wire," "Girls Girls Girls," and more. Songs from the new record fit right in; their infamous "titty cam" came out before "Mutherfucker Of The Year." Members of the other bands came out to chant along with Neil to "Saints Of Los Angeles." Then about halfway through the night, three of of the four left the stage for a pee break leaving Sixx to chat with the crowd about how much Detroit fans hate Chicago fans, and could show them up by doing a crowd jump from their seats for the camera (also for that video). They left the stage after "Dr. Feelgood," the crowd went wild, then a piano was rolled out onto the stage and Tommy Lee started playing "Home Sweet Home" for the encore.
You just don't see rock shows like this anymore.
— Penelope Biver
Category: Live Reviews, Weekly