Hello, My Name Is Scott
Q&A with "Rebel Radio"'s Scott Davidson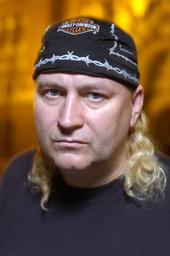 IE: You've done "Rebel Radio" for 14 years, you book shows, you do a TV Show ["Rebel Access"], you play in five bands, how much of your time on any given day is devoted to heavy metal?
Scott Davidson: Probably the whole day except sleepin'. And when I'm sleepin' I'm probably dreamin' of stuff, you know?
IE: Which one of the hats you wear gives you the most pleasure?
SD: "Rebel Radio." I'll be at a concert, and someone will be like "Oh man, five years ago you turned me onto Iced Earth," and that's cool. Stuff like that happens all the time.
IE: Who have been some of the interviews you've conducted that have really stuck out through the years?
SD: Rob Halford, real good interview and nice guy. Bruce Dickinson, Steve Harris. Who else? Jason Newsted was real cool.

IE: How about the terrible interviews?
SD: [Glenn] Danzig one time. I asked him about the Misfits, and he said "Next question!" I think he should have just said "I don't want to talk about that, so let's just move on" or something. There was a better way of doing that. But he's like "Next question!" I'm like, O.K., how about this? Next interview.
IE: How do you rate Chicago, on a scale of 1 to 10, as a heavy metal city?
SD: I'd say 9, just because of the quality of the bands. The Troubles, Macabres, Yakuzas — there's so many good bands here. The bands 9, and the scene 8.
IE: What about just the general dedication of Chicago's metalheads?
SD: There is a bunch of dedicated local fans, but on the national scale we are definitely dedicated. I wish they were more dedicated for locals, too, though. I think if each band supported the other bands' shows, the scene would be so much better. There's a small handful of bands at every show. And of course bands have their friends' bands. But even if it's not your friends' band you should still be out there promoting your own show. Disturbed was the best at that. Before they broke, every show, they were handing out cassettes. They were there, the whole band was there, every show.
IE: When IE did our first metal issue in '06, we didn't get your response for the "Favorite Metal Album Of All Time" discussion, so here's your chance. I'll even give you two since you're on the spot.
SD: I'd have to say Black Sabbath, Vol. 4, and Slayer's South Of Heaven.
IE: Why?
SD: Uh, I like every song on the albums. Sabbath got me into metal, and Slayer got me into the the heavier side of metal.
Scott Davidson hosts "Rebel Radio" Wednesday through Saturday midnight to 2 a.m. on 1240 AM in Chicago and simulcast on 1470 AM in the South suburbs. Q&A by Trevor Fisher.