MARTIN
M-21 Steve Earle Custom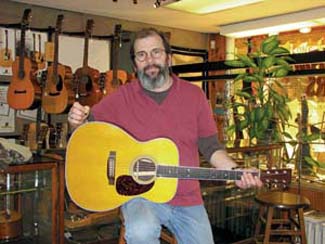 Steve Earle and Martin Guitar did something unique for the guitar biz: They created a "special edition" guitar without the customary big price tag that goes along with a collectable axe. Martin's M-21 Steve Earle Custom offers what you'd expect: a big, balanced sound with a top made of Italian alpine spruce and back and sides made of East Indian rosewood. The headplate, fingerboard, and bridge are also all East Indian rosewood, while the low-profile neck is carved from genuine mahogany. Offered in a blue molded hardshell case, each M-21 features an interior label personally signed by Steve Earle and numbered in sequence without a total. That's right, it's unlimited! Left-handed instruments may be ordered at no additional charge, but factory-installed electronics and a sunburst finish are extra-cost options. The list price of $4,299 is half the normal collectable Martin guitar. Visit www.martinguitar.com for more information.
BLADE GUITARS
High Impact Lightweight Cases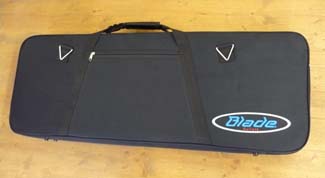 Custom guitar and case maker Blade have assembled a case for the 21st century combining the best aspects of shell cases and gig bags, making them lightweight, yet tough enough to protect your valuable guitar. The new cases feature a strong, but light, assembly of shock-resistant, eco-friendly polystyrene foam for the core that's contoured to fit all Blade and many other guitar models. The inside is covered in plush lining, while the outside is wov-en nylon – both durable and we-ather resistant. The new Blade case also has two interior and one exterior acc-essory pockets, a nylon handle, and backpack-style shoulder straps for added mobility. Get all the details at www.bladeguitars.com.
PEAVEY
XR 8600 Powered Mixer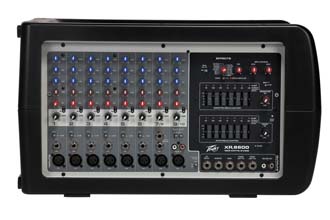 Not content to rest on their laurels, Peavey released a new-and-improved version of their XR series mixer in the XR 8600. This compact powered mixer features eight low-noise mic preamps, 10 line inputs, 2×600 watts of power per channel at 4 ohms, 48-volt phantom power, signal and clip indicator on each channel, dual main or mains-and-monitors power amp mode switch, channel mute switch, and DDT speaker protection. Wrapped in a heavy-duty plastic hardshell case, the XR 8600 offers improved seven-band graphic equalizer for mains/monitors with Peavey's Feedback Locating System. Each mic channel also offers a three-band EQ. Retail is $749. Check out www.peavey.com for more information.
NEWS & NOTES
For those looking for eco-friendly CD packaging, Disc Makers are now offering certified recycled paper and board stock for virtually all its CD and DVD packaging materials, including jewel case and DVD inserts, Digipaks, jackets, wallets, and other board products. The Eco-Wallet offer is just one component of Disc Makers' 2008 green campaign, a company-wide initiative aimed at reducing their carbon footprint and encouraging customers to choose eco-friendly packaging options, including non-toxic vegetable-based ink. Visit www.discmakers.com for more on DM's earth-friendly printing and packaging options.
Guitar Center are offering a unique vinyl exchange program July 30th at their Arlington Heights location. Customers can turn in their vinyl records for a Guitar Center giftcard during this special event. See the Illinois Entertainer Web site (www.illinoisentertainer.com) for more info on this event.
– David Gedge