The station that launched the legendary dance show "Soul Train" in 1970 recently hired two WTTW-Channel 11 alumni to help develop local programming.
Weigel Broadcasting, which owns WCIU-Channel 26 (where "Soul Train" got its start back in 1970), as well as WWME-Channel 23 and WMEU-Channel 48, recently hired Harvey Moshman and Randy King to create local content in new formats.
From 2002 through 2005, King was vice president of programming at WTTW, where he helped revamp "Chicago Tonight" and developed the live-music shows "Soundstage" and "Legends Of Jazz." He's now production manager at Weigel.
As executive producer of program development, former "Wild Chicago" producer Moshman will oversee the syndicated program "First Business," which originates at the Chicago Board Of Trade.
Weigel Broadcasting is a local, independent company with a storied past. John Weigel founded it with $2,000 when he purchased the license for what became the first UHF station in Chicagoland. WCIU (it stands for Chicago, Illinois UHF) went on the air in 1964. Weigel, who created "The Stock Market Observer," was ousted in a 1965 hostile takeover, but the name stuck (he moved to Kenosha and started a dairy farm and is the father of WBBM-TV sports anchor Tim Weigel). The station's past creations include the shows "A Black's View Of The News," "Mulqueen's Kiddie A-Go-Go," and "Svengoolie." At press time no new music shows were in the works yet.
ALTERNATIVE VOICES: Beachwood Reporter founder Steve Rhodes began doing a political blog for NBC-Channel 5 in March. Called "Division Street" (in homage to the Studs Terkel book and the diversity of its namesake), it's at www.nbc5.com/politics. A typical post: "Barack Obama officially disowned Trinity Church on Saturday but remains associated with a far more sinister organization with a long record of divisive misdeeds and criminal behavior that is likely to become an issue in the general election: The Cook County Democratic Party."
Amy Goodman's excellent NYC-based alternative news show "Democracy Now" airs weekdays at 7 and 8 a.m. on WZRD-FM (88.3), at 9 a.m. on WLUW-FM (88.7), and at noon on WRTE-FM (90.5). Watch live on cable at 7 a.m. on CAN TV Channel 19. For satellite listings, live streaming, and podcasts go to Democracynow.org.
Since doubling its signal last November, progressive talk radio station WCPT-AM (820) has been much easier to hear. Earlier this year Michael Feldman's brilliant "What'Ya Know" was added live on Saturdays (10 to noon). Retired WMAQ-TV political commentator Dick Kay does a show Saturdays from 2 to 4 p.m., and Public Enemy frontman Chuck D hosts Sunday nights at 10.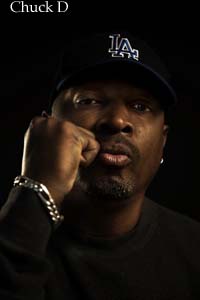 WCPT recently brought back MSNBC regular Rachel Maddow (5 to 8 p.m.). The only daily Air America show currently carried is "The Thom Hartmann Show" – heard on tape delay from 2 to 5 p.m. except on Fridays at 4 p.m., when there's an hour-long program just for WCPT listeners. (Daily hosts Bill Press, Stephanie Miller, and Ed Schultz are with Jones Radio Network).
SEXISM AND THE AMERICAN MEDIA: Last month, Andrew Stephens, of U.K.-based socialist magazine The New Statesman, raised interesting questions about the media's role in fanning the flames of American misogyny during the Democratic primary season. In the article, called "Hating Hillary," he wrote, "I am no particular fan of Clinton. Nor, I think, would friends and colleagues accuse me of being racist. But it is quite inconceivable that any leading male presidential candidate would be treated with such hatred and scorn as Clinton has been. What other senator and serious White House contender would be likened by National Public Radio's political editor, Ken Rudin, to the demoniac, knife-wielding stalker played by Glenn Close in Fatal Attraction? Or described as 'a fucking whore' by Randi Rhodes, one of the foremost personalities of the supposedly liberal Air America? Would Carl Bernstein (of Woodward & Bernstein fame) ever publicly declare his disgust about a male candidate's 'thick ankles'? Could anybody have envisaged that a [Web site] set up specifically to oppose any other candidate would be called Citizens United Not Timid? (We do not need an acronym for that.)
". . . It is nonetheless pointless to argue whether sexism or racism is the greater evil: America has a peculiarly wicked record of racist subjugation, which has resulted in its racism being driven deep underground. It festers there, ready to explode again in some unpredictable way.
"To compensate meantime, I suspect, sexism has been allowed to take its place as a form of discrimination that is now openly acceptable. 'How do we beat the bitch?' a woman asked Senator John McCain, this year's Republican presidential nominee, at a Republican rally last November. To his shame, McCain did not rebuke the questioner but joined in the laughter. Had his supporter asked 'How do we beat the nigger?' and McCain reacted in the same way, however, his presidential hopes would deservedly have gone up in smoke. 'Iron my shirt,' is considered amusing heckling of Clinton. 'Shine my shoes,' rightly, would be hideously unacceptable if yelled at Obama."
For the rest of "Hating Hillary," go to www.newstatesman.com and search "Hating Hillary."
– Cara Jepsen