Stone Temple Pilots
Charter One Pavilion, Chicago
Thursday May 22, 2008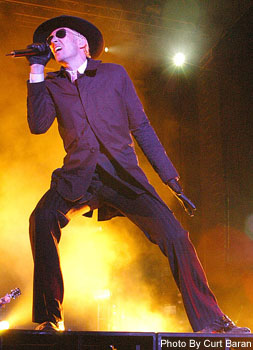 Click picture for full gallery
Stone Temple Pilots always wanted it both ways. In the halcyon days of Seattle grunge, they yearned for the credibility of torchbearers like Nirvana, Mudhoney, and Soundgarden. Instead, they got blamed for birthing Bush (the band, not the president). But they also craved stardom and all its trappings, something their contemporaries claimed to vehemently despise. Ultimately, they touched down somewhere in the middle.
Never a critics' darling, the quartet settled for the success-is-the-best-revenge route, selling tens of millions of records before an acrimonious split — fueled, for the most part, by singer Scott Weiland's extensive rap sheet (addiction, rehab, relapse; in fact he recently spent a 14-minute stretch in jail) — ended their run after the release of their fifth record.
So more than half a decade after their disintegration, STP have reconvened for what certainly felt like one last trip to the nostalgia ATM. A 70-date tour landed them at Charter One Pavilion on an unseasonably cold evening adjacent to Chicago's majestic lakefront.
In front of a capacity crowd, things got off to an auspicious start. Part way into opener "The Big Empty," Dean DeLeo's guitar rig abruptly cut out, bringing the song to a grinding halt. Two futile resets later, they scrapped the tune altogether and moved on.
But the stalled momentum never seemed to lift. Scott Weiland — resplendent in a wide-brimmed, Carmen Sandiego fedora and an impeccable, three-quarter-length trench that made him look like an über-hip undertaker — seemed lethargic and atrophied during rock radio staples like "Vaseline" and "Plush." The usually lithe, pipe-cleaner thin frontman appeared weighed down, even when slipping serpent-like across the front bank of monitors.
Bassist Robert DeLeo and drummer Eric Kretz delivered workmanlike performances, laying rhythmic bedrocks during catalog cuts like "Crackerman" and "Coma," but without Weiland unleashing his hoary growl, the results were innocuous at best. On the more spacious midtempo numbers like "Sour Girl" and "Lady Picture Show," the singer finally found his sense of vocal nuance, allowing the menace in his baritone to give way to Beatles-esque melodicism.
By the time the band charged through the show-closing "Trippin' On A Hole In A Paper Heart," the evening had coalesced into a missed opportunity instead of a triumphant resurrection.
— Curt Baran
Category: Live Reviews, Weekly