Little Brother
The Return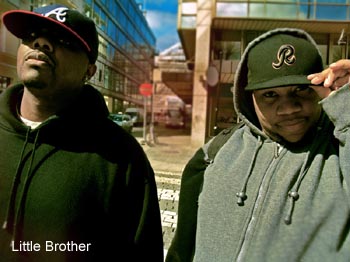 When hip-hop's golden era died down in the mid-'90s, so did many of the greatest groups responsible for that renaissance.
From Pete Rock & C.L. Smooth to EPMD, these influential acts gradually parted ways. At the same time, hip-hop became much more flashy while the dark, subterraneous sound of groups like Company Flow kept substance alive on an independent, "underground" level. But in 2002, a trio of hungry hip-hoppers from Durham, North Carolina called Little Brother (LB for short) emerged to carry the torch passed from the EPMDs of the past without necessarily isolating themselves in an indie sanctuary.
Even though their 2003 debut, The Listening, was released by the pioneering West Coast independent imprint ABB (Always Bigger And Better), LB never really tried to be part of the underground. Sure they criticized the shiny-suit-wearing image of rappers in the spotlight, but MCs Phonte and Rapper Big Pooh, and producer 9th Wonder were more concerned with injecting soul into a music that had often become so superficial. And to purists' delights, they also carried on the sample-based, boom-bap style made famous by New York acts of the late '80s/early '90s.
Although only four years, a few mixtapes, and two albums into their career, Phonte and Pooh started to notice a disconnect with 9th Wonder — the same beat whiz who was also crafting hits with Jay-Z, Destiny's Child, and Mary J. Blige. Entering 2007, the group had no choice but to face their growing internal imbalance. While Little Brother kept the discord from the public for much of 2006, by January 2007 it was time to let the truth out.
Originally reported by a multitude of music Web sites including Hhnlive.com, Mp3.com, and Allhiphop.com, the stories announced 9th was officially leaving. A press release stated, "There are no hard feelings and no beef. This is just a decision that had to be made so all three of us could move forward and continue to provide the world with dope music."
In interviews with other publications, Phonte and Pooh expressed frustrations at 9th losing touch with the group's vision. But on the day Illinois Entertainer spoke with Big Pooh, he didn't have much bad to say about his former producer.
"There's no animosity — nothing like that," Pooh says of the current relationship with 9th. "He's a talented guy and we'll do a song like we did for [9th Wonder's] Dream Merchant record, but as far as us being in a group, it just didn't make sense anymore."
So while 9th continues to make noise with the likes of Blige and now Erykah Badu, Little Brother carry on as a duo with their third LP, Getback. But Phonte and Pooh severed their relationship with Atlantic Records. In fact, LB announced they were leaving Atlantic the same day they publicized 9th's departure.
— Max Herman
To find out how Little Brother recovered, grab the December issue of Illinois Entertainer, available free throughout Chicagoland.