The Whigs
Schubas, Chicago
Friday, November 2, 2007
How do you possibly follow up a record that led Rolling Stone to proclaim you "the best unsigned band in America"? That's the daunting challenge The Whigs face in January, when their new album is released.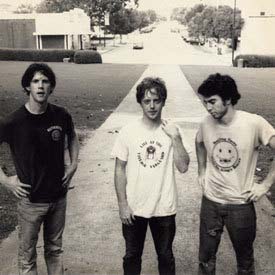 They'll no longer be in the running for best unsigned band, of course; ATO swooped them up after their debut, Give 'Em All A Big Fat Lip (which the label rereleased in September), won the hearts of critics across the country and convinced them to dump heaps of praise on the Athens, Georgia band. Realistic (My Morning Jacket, The Strokes), unrealistic (Dinosaur Jr., R.E.M.), and everything-between (The Replacements, Superchunk, Pavement) comparisons were thrown at The Whigs, whose members were still in college when they recorded Fat Lip and who allegedly did so with a college-student budget. It has to be thrilling to receive these accolades at such an early stage in their career, but it also has to be terrifying as hell. Pop music critics from across the country foaming at the mouth to hear what'll you do next – prove them right or fail miserably? Either is a story for the rags, though if the album is too bad the renowned percussion experts at Esquire Magazine probably won't let Whigs skinsman Julian Dorio defend his 2007 Drummer Of The Year award.
The Broken West and Wild Sweet Orange open.
– Trevor Fisher
Click here to stream The Whigs' "Technology."
Category: Stage Buzz, Weekly