Hellyeah, Otep
House Of Blues, Chicago
Sunday, November 4, 2007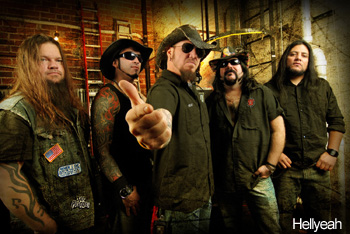 After his brother Dimebag Darrell was murdered onstage – right in front of him – in 2004, ex-Pantera and Damageplan drummer Vinnie Paul hinted he would never play music professionally again. There was always the feeling, though, Paul would return, it's just too bad it couldn't have been with something better than Hellyeah.
If you've heard the first single, "You Wouldn't Know," from Hellyeah's self-titled album you probably have the idea Paul and his bandmates (vocalist Chad Gray and guitarists Greg Tribbett from Mudvayne, guitarist Tom Maxwell from Nothingface, and bassist Bobzilla – Nothingface's Jerry Montano was the original bass player but got booted on the night of Hellyeah's CD release party – of Damageplan) are trying to be a loosey-goosey, good-time Southern metal band. If you've heard the awful second single, "Alcohaulin' Ass," you've firmly decided such. Thankfully, the rest of the record isn't at all like those two songs, it's much more akin to what Gray and Tribbett do in Mudvayne, or, if you've actually heard them, what Maxwell does in Nothingface: chunk-a-chunk riffs, locked-tight rhythm section, and screaming. Lyrically, Gray skips subjects like aliens and being misunderstood, 'cause Hellyeah are all about havin' fun, bro! Smokin' weed, drinkin brew', and generally fuckin' shit up are favorite topics among the 12 songs, with the exception of the actually poignant ballad "Thank You." This record gets numbingly redundant, but at least Vinnie is back and having a good time again.
Tribbett was also involved in the making of openers Otep's new record, The_Ascension (Koch), co-writing three of the songs with frontwoman Otep Shamaya and bassist Jason McGuire. The_Ascension was supposed to come out way back in March (Capitol even sent advances out; read part of the IE feature on the band here), but the label balked at the last second, shelving the album until October when Koch signed Otep. The album is a significant step for Otep, especially if you consider their first album, Sevas Tra, was unlistenable at times – a helter-skelter mess of screams, death grunts, and nu-metal flatulence. Shamaya has improved tenfold as a vocalist, finding a singing voice (she sounds excellent on a surprisingly good cover of Nirvana's "Breed") to throw into the fray with her razor-blade-howls and spoken-word intimacy.
Bloodsimple also play.
– Trevor Fisher
Click here for streaming samples of Hellyeah.
Click here for streaming samples of Otep.
Category: Stage Buzz, Weekly