Cass McCombs/Euros Childs
Empty Bottle, Chicago
Monday, November 5, 2007/
Tuesday, November 6, 2007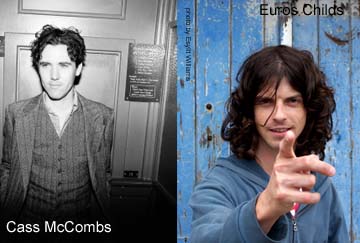 The "singer-songwriter" label frequently oversteps its bounds. In the '70s it referred directly to the James Taylor/Joni Mitchell/Jackson Browne types, and is used as a perjorative these days to mean any sort of coffeehouse qhinwe. Invoke Elliott Smith at your own risk.
Cass McCombs and Euros Childs are denotatively singer-songwriters — they play what they write. But what they're writing isn't so easily defined. McCombs has stayed in San Francisco, New York City, Michigan, and currently calls Chicago home. His third album, Dropping The Writ, pulls on those locales without ever exploiting a single one of them. The finger-picked "Full Moon Or Infinity" could be Simon & Garfunkel haunting Central Park as much as it could be Devendra Banhart casting premonitions from the roof of the Presidio. "That's That" rides a bassline bursting with triplets into an almost-shy "doo-wah" chorus as if he thinks Yo La Tengo might come calling with a legal notice.
What makes Writ such a relief is not that the ghost of Jim Croce is held at bay or Nick Drake's mumbled cries for help are muted, but McCombs keeps himself in check. Very much a fan of colors, shading, and textures, his falsetto often teeters on indulgence before quickly pulling itself back. And when he wants to rock ("Lionkiller"), he actually can without a cast of legitimate rockers holding him up — the best way out of the singer-songwriter ghetto.
As the former frontman for schizo Welsh indie rockers Gorky's Zygotic Mynci, no one would have ever thought to reduce Childs to such a caricature. Even when Gorky's wound their career down while serenading the sunset, Childs' first solo forays were a series of sharp left turns in worlds inhabited by donkeys and surely a Shrek-ish character somewhere.
This fall's The Miracle Inn (Wichita) is his third album in two years and more in tune with the McCartney phase that contributed to Gorky's' twilight era. Still packing some pop punch ("Horseriding" and "Ali Day"), the sun really comes out when Childs is melancholy. His pipes warm "Over You" and "Outside My Window," which find everything they need in the confines of a bedroom. Even when he sounds alone, it's almost as if there's a Beatles record spinning in the background. In fact, he fits what could be a sly tribute to Side Two of Abbey Road, a 15-minute pastiche called "The Miracle Inn," that puts a stamp on this side of his craft before he can move onto the next.
Ariel Pink and Tirra Lirra open for Cass McCombs. David Kilgour and Pseudosix open for Euros Childs.
— Steve Forstneger
Click here to download Cass McCombs' "That's That." http://www.cassmccombs.com/downloads/thatsthat.zip
Click here to download Euros Childs' cover of Donovan's "Teen Angel." http://www.euroschilds.com/mp3/04%20Teen%20Angel.mp3
Category: Stage Buzz, Weekly