The 1900s
Panit The Town Red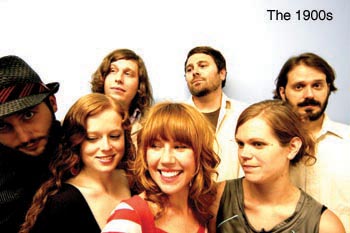 Whoever said blondes have more fun never met redheaded kindred spirits Jeanine O'Toole and Caroline Donovan. The duo are better known as "The Murphs" to their five comrades in Chicago-based and South Side-representing, '70s-influenced band The 1900s.
"It's a pretty endearing nickname," O'Toole concedes. "Murphy is an Irish name and Caroline and I are Irish redheaded lasses and right when the band got together someone said, 'We should come up with a term for the two of you as a pair.'"
Keyboardist Mike Jasinski coined the name and it stuck. Stagg High School alums Edward Anderson (vocals/guitar), Tim Minnick (drums), and Jasinski recruited the former Mother McAuley High School girls to join their orchestral pop experiment three years ago, rounding out the lineup with bassist Charlie Ransford and violinist Andra Kulans — the group's only members not reared on the South Side.
Parlaying musical-theater and church-choir experience into the role of full-time band member wasn't the career trajectory O'Toole envisioned, even as she made frequent guest appearances on friends' projects. But Ike and Tina Turner changed all that.
Gifted with a honeyed voice and an innate impulse to show off, O'Toole, along with fellow thespian Donovan, characteristically utilized their spacious apartment to host parties where the two would perform a "ridiculous routine" to "Proud Mary."
"[Donovan's] Ike and I'm Tina," O'Toole says nonchalantly as if it's quite normal for grown women to act out their inner R&B fantasies for the entertainment of friends. "The backup dancers for Ike and Tina Turner have really saucy moves and we sort of copy their moves that they do for that song. That's pretty much the musical-theater side of us. Sometimes you bust out some really obnoxious dance routine at a party."
Waiting in the wings witnessing this display of sheer courage, mutual acquaintance Anderson quickly convinced the girls to lend their harmonies to the band. "I had no intention of being a full-time member of any band. I didn't really care for the idea," O'Toole admits. "When we all met it seemed like they were looking for us to be permanent members and I just never said no and Caroline never said no and now I'm wrapped up in this tornado called The 1900s and I can't get out."
Far from feeling trapped (keeping her much-adored day job helps), O'Toole embraces the push and pull of band life, but when pressed it's really an admiration for and commitment to the music keeping her tethered to the group. And under Anderson's tutelage The 1900s' visceral output reels in even the most nostalgia-eschewing set of ears.
Not that The 1900s trade in originality for the glory days of pre-"Me" decade acts, but the echoes of Fleetwood Mac on their first full-length, Cold & Kind (Parasol), hearken back to the experimental age of FM radio.
Romantic inter-band liaisons also buoy the Mac attack references as Anderson and Donovan remain an item while O'Toole and Ransford's ceasefire eases post-breakup aggravations. "Every band has issues whether people have dated in the band or not. There's always conflicting personalities and ideas," O'Toole says. "The romantic involvements don't have as much to do with our struggles anymore. I think it's been a problem from time to time, but never a problem that threatened the band in any serious way."
If personal conflicts didn't put added pressure on the band, the recording sessions for Cold & Kind certainly did. The record builds on the foundation laid out on their debut EP, Plume Delivery, which Anderson and co. recorded before they ever set foot on a stage. The EP and resulting concert dates (especially a persuasive South By Southwest showing) garnered The 1900s critical acclaim nationally and led to a spot, albeit a very early one, on this past summer's Lollapalooza roster. But financial constraints linked to an unplanned extended stay in the studio took their toll.
"It was just a lot of editing and re-editing and re-editing that was occurring and it was frustrating," O'Toole explains. "[As] anybody who's ever been a part of making an album would tell you . . . you're notoriously changing your mind all the time and you can keep changing your mind and keep changing your mind and at some point you have to stop and say, 'O.K., this is the decision. This is how it's going to be.'"
The album seems poised to only add to the band's ever-growing cheering section as its 11 tracks undulate with the girls' mesmerizing, seductive vocals and the coy way Kulans' violin coils around Jasinski's incandescent keyboards. O'Toole is fetching when taking the lead on "When I Say Go" and "The Medium Way," which also highlights her prowess with the lyric sheet, but Cold & Kind belongs to Anderson and more specifically "Acutiplantar Dude," a multi-tiered plea that begins as a shimmering pop tune and ends in a fervent Wall Of Sound barrage of emotion.
Yet, the band's trepidation about the end result remains intact. "I don't even know if anyone is fully satisfied with the final product. It is hard to listen to. I enjoy it now. For a little while I didn't enjoy listening to it," O'Toole admits. "I still cringe when I hear certain parts of it, like 'Oh gosh, wish we could do that over.' You just have to let go at some point."
Much like theater veterans who obsess over details and mistakes the audience were oblivious to, The 1900s doth protest too much when critiquing themselves. But O'Toole should know all about that as a born performer.
With seven people onstage, there's always something to watch during The 1900s' live shows and none more so than the tambourine-wielding, hair-flipping O'Toole.
"I don't second guess myself when I'm onstage at all. I don't worry what I look like or what I sound like. I just do it and it feels great. It's hard to explain, but I've always just really loved to ham it up. And in a band I can ham it up and I'm being myself. Performing in a musical . . . you're hamming it up as someone else and it's really liberating to just be yourself and let it all kind of explode out of you," O'Toole gushes. "It's like opening a dam at the beginning of every show, like I can't really control it once the show starts, but it's a good feeling. It's a nice feeling of exhaustion afterwards. It's one of my favorite things to do and it always has been."
Of course, if O'Toole ever wants to get back in character, Tina has a whole back catalog to dig into.
— Janine Schaults