Chaka Khan
"This" Is Not A Test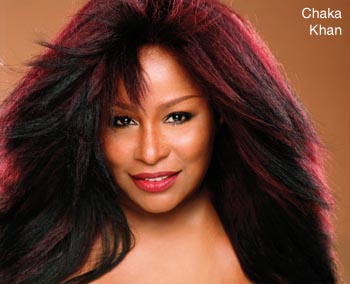 Getting on the phone with Chaka Khan for even a few minutes is an arduous planning process, but that's only because the famed funk diva is currently being pulled in a million different directions.
Although it has been 10 years since the public heard the soulful side of the Chicago-bred entertainer, the former Rufus frontwoman has plenty on her plate, from signing a deal with Sony's new heritage label Burgundy Records, to lining up a list of all-star collaborators for her new Funk This CD, to putting the finishing touches on its 13 tracks in the studio. And on the day of this specific chat, Khan is smack dab in the middle of tour rehearsals, which will take her across the globe on a major scale for the first time since her escapades with Prince in the late 1990s.
"I'm sorry if I sound a little tired, but I'm running through the new songs with the band and trying to get the show really tight," says the singer-songwriter as instruments tune in the background of an unidentified Los Angeles soundstage. "I've been working my ass off [over the last several years] doing work with Prince and putting out [the 2004 disc of jazz standards] ClassiKhan with The London Symphony Orchestra. And I wasn't totally out of the loop because I've been working on getting this new CD out, which was rough, but worth it."
Fans from her 1973 start in Rufus through those who've followed the ensuing solo career are likely to concur, as the new disc features the best of both old-school worlds, merged with modern production flourishes courtesy of classic hit makers Jimmy Jam & Terry Lewis (Janet Jackson, Mariah Carey, Usher). "I just felt I needed to return to myself and bring Yvette forward," Khan quickly quips, citing her birth name. "So I went into the studio with the intent of giving people the sound that made people fall in love with my voice in the first place."
As for Jam and Lewis, Khan calls their initial meetings filled with stories "of mutual admiration" and listening to a lot of her classic albums to get the upbeat feel and focus. Though it took the singer a few days to re-settle into her vintage style, everything flowed briskly and naturally once getting past the warm-up stage.
— Andy Argyrakis
To learn more about Khan's experience with Jam and Lewis, grab the November issue of Illinois Entertainer, available free throughout Chicagoland.