Naked Eyes
Lincoln Park Fest, Chicago
Friday, September 28, 2007
You might not fully remember Naked Eyes, but they remember The Beatles. And Jimi Hendrix. And Elvis Costello. And The Rolling Stones. And . . .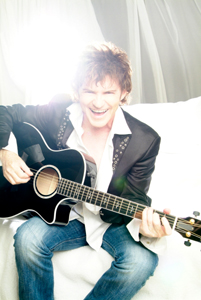 If you do recognize the name Naked Eyes, keep in mind this isn't exactly the same group. Those synth poppers scored two hit singles in 1983, a cover of Burt Bacharach and Hal David's "Always Something There To Remind Me" followed by their own song, "Promises. Promises." And those synth poppers were plural – poppers – as in Pete Byrne and Rob Fisher. The one you'll see at Lincoln Park Fest this weekend, and the one responsible for this summer's Fumbling With The Covers (Oglio) is singular – popper – as in Pete Byrne. Fisher passed away in 1999 (complications from stomach surgery), apparently just as he and Byrne, who split shortly after their 1984 album Fuel The Fire tanked, decided to start working together again. Who knows if Fisher's involvement in this covers set would have helped any, but someone needed to put the clamps on Byrne, whose wispy, sleepy acoustic takes on Hendrix's "Little Wing," Elton John's "Rocket Man," and the Fab Four's "Cry Baby Cry" suck every last bit of oomph from them. Byrne shows some actual emotion on his surprisingly bluesy take on The Stones' "King Bee," but beyond that the 10 tracks (which include new renditions of Naked Eyes' aforementioned hits) lack any real soul.
– Trevor Fisher
Click here to download Naked Eyes' version of "Cry Baby Cry."
Category: Stage Buzz, Weekly