Municipal Waste, Skeletonwitch
Knights Of Columbus, Arlington Heights
Wednesday, October 2, 2007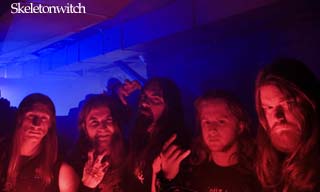 Holy shit . . . thrash really is back! We've been hearing that for a few years now, thanks in large part to the sliver of mainstream success bands like Lamb Of God, Shadows Fall, and Trivium have enjoyed. But now there is a full-blown underground movement, and two of its most noteworthy players are on the road together!
Among those bands (Skeletonwitch, Fueled By Fire, and Dekapitator to name a few), Municipal Waste likely have the most notoriety. And maybe the least originality — though not really meant in a bad way. An undeniable ode to '80s hardcore/metal crossover acts like Agnostic Front, Anthrax, and especially 'Thrax offshoot S.O.D., MW make no attempt in either style (white sneakers, black jeans, and sleeveless cutoff denim jackets) or sound (punky blasts of metal riffing that come in under two minutes). Waste's third record, The Art Of Partying (Earache), was released in July, and, quite intentionally, offered few surprises to anyone familiar with either of their first two efforts, 2003's Waste Em All and 2005's Hazardous Mutation. The group rarely stray from favorite topics partying (title track, "The Inebriator," "Beer Pressure," and "Born To Party") and thrashing ("I Just Wanna Rock," "Thrashing's My Business . . . And Business Is Good," and "Headbanger Face Rip"), but when they do it's for toilet — literally — humor like "Septic Detonation" ("There's nothing you can do/covered in number 2"). Municipal Waste are doing absolutely nothing new, but they're having a helluva good time doing it, and that, in turn, makes listening to them a pretty damn good time, too.
Skeletonwitch don't yet have the name recognition of their tourmates, but their debut full-length, Beyond The Permafrost (Prosthetic; October 2nd), might very well be one of the best metal records of this year. It only took one EP, Beware The Witch, for these Ohio hessians to gain Prosthetic's attention, and it's easy to understand why listening to Permafrost. The band's strongest roots are deeply entrenched in Bay Area thrash's soil, but they also snake through the murky ocean bottoms to Norway. Songs like "Limb From Limb" and "Fire From The Sky", where napalm-lunged frontman Chance Garnette demands we "praise the wicked one" with a subterranean growl, are bloody hunks of thrash charred over black metal's unholy flames — like Metallica filtered through Mayhem. Guitar tandem Scott Hedrick and Nate Garnette are incredibly melodic on "Feast Upon Flesh," but it's drummer Derrick Nau who deserves credit for refusing to bludgeon listeners with endless blast beats, even as his vocalist pukes up tales of night-prowling, flesh-eating demons. Skeletonwitch have the chops for old-school riffmeisters and the gore for immoral corpsepainters.
— Trevor Fisher
Click here for streaming samples of Municipal Waste.
Click here to download Skeleton witch's "Upon Wings Of Black."
Category: Stage Buzz, Weekly