Mekons
Natural
(Quarterstick)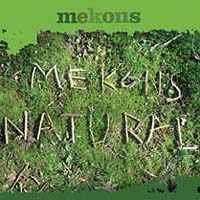 For their 30th anniversary, the Leeds-born punks forage off the country roads and through the fields.
Appearing: September 28th at Old Town School Of Folk Music in Chicago.
It's hard to say in what respects the Mekons are still a band. This is their first album of new material in five years, interrupted by 2004's Punk Rock, which revised early tunes in more mature tones. Jon Langford has become an enterprise unto himself with a solo gig, side bands, and even books. Plus, at last fall's silver affair for Touch And Go Records, Langford shared the stage with The Ex's Kat Bornfeld while Sally Timms went it alone.
Back together, well, Natural hardly sounds like an anticipated reunion. Loaded with stark odes (it opens with a song called "Dark Dark Dark"), it even manages to turn a child-like harmony into a death sentence. "White Stone Door" sounds like an 18th-century American folk band beamed into a Haitian refugee camp, a vibe Langford locks into for "Cockermouth" and a boneyard ramble. While most of the tracks take awhile to sink in, the most instantly remarkable is "Burning In The Desert Burning," a reflection on what makes a terrorist and one of the bravest contemporary-history pop songs since "John Walker's Blues."
7
— Steve Forstneger
Click here to stream "Dickie, Chalkie And Nobby."