Common
Charter One Pavilion, Chicago
Thursday, September 20, 2007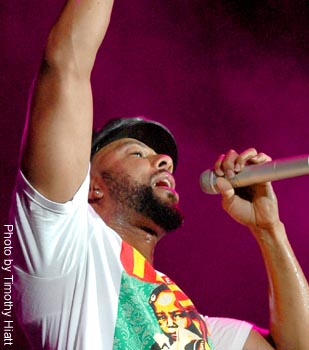 If he were born a century ago, Forrest Gump might have uttered "Life is like Common: You never know whatcher gonna get." On the one hand there's the Gap commercials and wannabe-Lothario stage antics — a newsboy-cap wearin' radio hopeful who references Jennifer Aniston and Vince Vaughn's split on his new album.
But he also likes to court controversey, and when his mind gets going he's equal parts community activist, old-school flamekeeper, self-styled prophet, and biting critic. On Thursday night he was tried to be all, switching hats in a tightrope act he frequently had to corrall, even if he never quite lost control.
Never was this more apparent than a hamfisted dramatization of his 2005 hit "Testify," where whatever acting skills he picked up in Hollywood didn't arrive with the rest of his luggage. That he was only four songs into his 90-minute set had the audience worried, but just when "Testify" fizzled, DJ Dummy jolted the beat back to life, Common raised the pavilion, and, by the second bangin' verse of "The People," all was forgiven.
The push/pull also existed in one-love consciousness ("Whatever color you are" was a mantra) and his sense of responsibility to African Americans, which arrived not only in cuts like "Black, Maybe," but references to the Jena 6, Dead Prez, and, questionably, embattled football star Michael Vick, whom Common qualified as "misunderstood." Toss in bringing a female audience member onstage to serenade her and then venturing into the heady psychedelics of his Electric Circus album, and the performance could have used more guidance. (Case in point: He and crew lost track of time and had to hustle together "The Light" before the venue pulled the plug.)
As is the bedrock of any Common album, his love for straight hip-hop managed to tie everything together. Whether it was freestyling, riffing on verses from classic hits, or warping Nas' "NY State Of Mind" into "Chi-Town State Of Mind," the rapper was at his best when serving his bread and butter. "I Used To Love H.E.R.," "The Game," and "The Corner" all resuscitated Charter One when played, but that points more to Common's willingness to take chances. One never has to be saved if one's never in danger.
— Steve Forstneger
Category: Live Reviews, Weekly