The Chemical Brothers, Ladytron
Riviera Theatre, Chicago
September 24, 2007
Since 1993, The Chemical Brothers have consistently churned out an evolutionary form of electronica music that could find dual footing in a club or on the radio. Thankfully the dance-derived duo are also known for an equally enthralling stage show, complete with lights, lasers, and smoke that could fill theaters, stadiums, and even massive festival settings.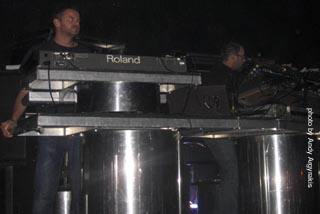 While the English duo, comprising Tom Rowlands and Ed Simons, set trends from the very beginning, the pair refused to rest on their laurels in support of
We Are The Night
(Astralwerks), upping the artistic ante to sense-shattering degrees.
Though the silver, space-aged set was loaded with plenty of gear and gadgets, The Chemical Brothers showed off why all the equipment was necessary come the familiar opening crashes of "Galvanize." The guys frantically jumped between traditional and upright keyboards, programming stations and laptops, twirling plenty of knobs and whistles along to the way to drive home the track's thunderous clashes. The new "Do It Again" kept the pulsations at an ear shattering premium, again laden with mounds of slick trickery and a robotic rock flavor (demonstrating the group's early Kraftwerk affinity).
Like those German electro-wizards, The Chemical Brothers relied on a series of stunning visuals, turning to a variety of shapes, symbols, colors, and graphics to match the percolating rhythms. Throughout the course of the near two hour evening, the pair pulled out everything from images of exploding paint balls to real-life, blinking eyeballs to forest-preserve scenes, plus a pair of sinister clowns. The seemingly random assortment of images corresponded directly with the duo's diverse sonic palette, which ranged between techno, trance, and liberal doses of new wave influences (most notably New Order).
In fact, that band's frontman Bernard Sumner could be heard piped in every so subtly across "Out Of Control," presented as an even more intense rave up than the studio version, complete with animated tigers and elephants prancing across the backdrop. Yet the night's true throwdown came during an extended take on "Believe," loaded with pummeling bass, demented keyboard dings, and several ominous tension shifts. No matter what the direction, The Chemical Brothers served up an effective audio/visual blend with plenty of charisma and playful interaction between the famed DJs, who despite their veteran status, don't appear to be slowing down anytime soon.
Unfortunately openers Ladytron didn't have nearly as much stage presence, even when ignoring the fact their simple strobe-light array paled in comparison to the headliner. The female fronted dance foursome seemed shy during the opening cries "High Rise" and didn't loosen up until their third offering, "Evil" — at that point overshadowed by relatively plain electronic pop pretenses. The pendulum finally shifted with the much darker and slightly more dramatic "International Dateline," but it wasn't enough to save earlier lackluster efforts and minimal audience interaction.
— Andy Argyrakis
Category: Live Reviews, Weekly