The Roots, MC Lyte, Big Daddy Kane
House Of Blues, Chicago
Saturday, September 22, 2007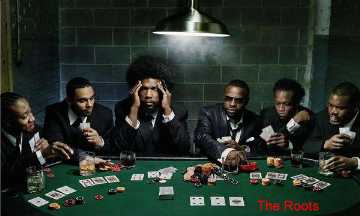 Considering the popularity of crunk, "pop, lock, and drop it," and everything else that passes for hip-hop these days, a tour highlighting the golden days of beats and real rhymes proves to be sorely necessary. With hip-hop revolutionaries The Roots leading the way, the Hip-Hop Honors Tour delivered a welcome dose of hip-hop done right.
"We are the krush-groovin', body-rockin', and record-breakin' Roots!" announced Black Thought to an erupting, multi-racial crowd. The band promptly launched into Run-DMC's "King of Rock" and NWA's "Fuck Tha Police," inspiring waves chanting and hand-waving. Black Thought tackled Rakim's "Microphone Fiend" with relish, showcasing his underrated lyrical skill. UTFO's "Roxanne, Roxanne" offered an opportunity for Quest Love to spit behind his drum set, "She doesn't need a guy like you/she needs a guy like Quest/with a high IQ."
Introduced as "The Queen Of The Game," MC Lyte commanded the stage in a black-and-white-striped corset, white jeans, and a sleek pixie cut, looking younger than when she started out nearly 20 years ago. She elevated the crowd's energy with masterful renditions of "Cha Cha Cha," "Slave To The Rhythm," and "Roughhneck. "
Joined by mediocre Detroit MC Skillz, Black Thought delved into more classics, rolling through Nas' "Illmatic," two Wu-Tang cuts, and a Kool G Rap tune that left the microphone steaming. "And he wasn't even listed on MTV's top 10," explained Quest Love of Black Thought's overlooked skill.
Strolling onto the stage in a gold shirt and white fedora cocked to the side, Big Daddy Kane exclaimed, "Damn, it's thick up in here!" of the packed, sweating audience. "That's what I like to see!" The "original Asiatic acrobatic" then dove into "Pump It Up Kane," "Smooth Operator," and "I Work It," punctuating the nasty grooves with signature kicks and gyrations. He then called for "not a moment of silence but a moment of noise" for hip-hop pioneers Notorious B.I.G., Tupac Shakur, and Jam Master Jay. He was joined by a dancer who helped recreate the graceful dancing that won him '80s fame. Kane flew into the air and landed on the stage with splits and twirls.
Lyte came back for a funky treatment of "I Rock The Party" and Kane guided revelers through dancing classics. "Not many people go back to the early '90s but how about the '80s?" he asked the crowd of mostly 20-somethings. "Let's do the running man! How about the wop? And everybody remember the snake!" He instructed the audience through mass undulations, creating a comical, off-the-beat spectacle.
The Roots managed to slip in their own "Proceed," connecting their work to the brood of hip-hop staples. The two-and-a-half hour show left many hungering for more music that transcends the low levels of current hip-hop and hopefully, that hunger will translate into more depth for hip-hop overall.
— Rosalind Cummings-Yeates
Category: Live Reviews, Weekly