Peter Himmelman
PIGEONHOLED!
Peter Himmelman used to be famous for three reasons: 1) being a critically acclaimed rock 'n' roll singer-songwriter signed to major labels (Island in the 1980s, Epic in the '90s), 2) being an observant Jew who became the first performer of note since the Scottish Olympian Eric Liddell to jeopardize his career by refusing to perform (on "The Tonight Show," as Rod Stewart's opening act) on the Sabbath, and 3) being married to one of Bob Dylan's daughters.
Now, at 47, Himmelman finds himself less famous than he once was. Unlike many of his aging peers, however, he has developed a Plan B: providing music for television shows (currently FOX's "Bones" and ABC's "Men In Trees," formerly "Judging Amy" and "Bug Juice") and films (Pyrates, Crossing The Bridge). He even has a Plan C: recording albums for children (1997's My Best Friend Is A Salamander, 2000's My Fabulous Plum, 2004's My Lemonade Stand, 2007's My Green Kite). As a dedicated father of four, it's a task for which he's well qualified.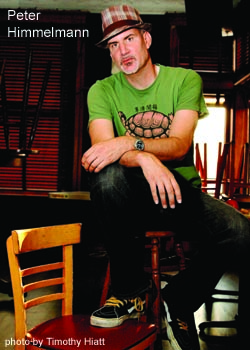 Not that Himmelman has abandoned Plan A. In fact, he has adapted fairly well to flying below the radar as a rock 'n' roller, releasing his latest albums on his own Himmasongs label and relying mainly on word-of-mouth generated by his tours – on which he's often accompanied by the same musicians with whom he has played with since 1979, when they were the "fourth biggest band in Minneapolis," Sussman Lawrence.
If Himmelman sounds busy, he is. "Sometimes I wonder what I would do if I had two weeks just to do nothing," he muses. "I'd probably be completely depressed – or drive my wife crazy."
He addresses the situation directly in "If We Could Hold Each Other's Hunger," the haunting final track of his new album for grown-ups, The Pigeons Couldn't Sleep. "Like a mad mathematician," he sings, "we divide our lifetime into fractions."
"There's something about the dividedness of my time which is not something that I had when I was much younger," he says, "you know, the different responsibilities and 15 minutes devoted to this or that, and then something else intrudes. It's a real cognizance of time and of things being compartmentalized one from the other. And it's a troubling thing, I think."
— Arsenio Orteza
Catch a preview, then read the full text in the September issue of Illinois Entertainer, available free throughout Chicagoland.