Hello, My Name Is Tom
Q&A With Tom Smith of Editors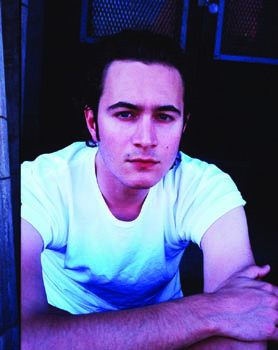 IE: The lyrical phrases that keep popping up on your new An End Has A Start are bones, flesh, and death.
Tom Smith: Heh-heh. Yeah. A lot of the songs do have me mulling over or thinking about things coming to an end. But I dunno – the lyrics come from me, and they're kinda personal, and they're all a reflection of things that've gone on in and around my life. And for the last couple of years, there've been a few things that've happened that've made me . . . made me think about these things. I can't stop these thoughts, these things coming through into the songs.
IE: So you're suddenly aware of mortality at 26?
TS: Yeah. It's a greater awareness than I've ever had before. I think as you get older, things happen which force you to confront things like that. And like I sad, that kinda happened to me in the last couple of years. And it makes you think about your own mortality, and it makes you think about obviously scary things – disease, death, illness, horrible scary things. But also, at the same time, you look around and you think about what you have. If something scary or terrifying happens in or around your life, or you observe someone close to you going through something that makes you think about scary things, you look around at things around you and you can take comfort in relationships that you have with your friends or loved ones. You appreciate what you have. So I hope the lyrics aren't looking at, well, the bright side of death, 'cause that's a ridiculous thing to say. But there are certain ways of looking at other aspects of your life if something scary is happening, that can make you really appreciate things.

IE: Death – especially experiencing the death of a parent – really hits the accelerator on your life, I've found. Really makes your work even more important, because you realize you don't have forever.
TS: Well, my grandmother did pass away, which was so sad. And my dad, especially, is going through what you just described. And I've been watching the way that it kinda affected him. And there've been a couple of other things, too – someone from my past, someone I was in school with was tragically killed in the last couple of years. And I didn't know this person anymore, but they were just someone who was my age, so it was a striking thing to have happen, and it kinda resonated in me for a little while. As it should do, you know? And another thing – parental friendship groups. My mom and dad are like 50, 60, and people in their friendship groups are starting to get ill. And with my increased awareness of this, it just felt like all these things were adding up and it was kinda . . . not weighing down on me, but it was forcing me to to look at them and think about them.
— Tom Lanham
Tom Smith and his band, Editors, appear September 11th at Park West in Chicago.