Michael McDermott
Born Again, And Again, And Again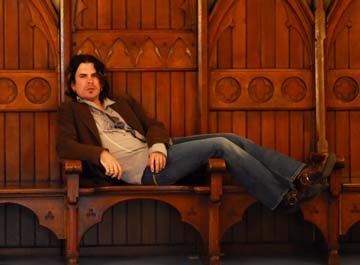 It's a flashback to the summer of 1991 — meeting in an Irish pub where everyone seems to know Michael McDermott, listening to stories behind the songs on his latest record. But there is something distinctly different about McDermott since we sat down for a cover-story interview for his debut, 620 W. Surf, 16 years ago. Though the submission to "the beast" as he called it back then – that uncontrollable urge to write songs – is ever-present, it's the innocence and faith in the young troubadour's pale Irish eyes that is gone, glazed over red with self-deprecation and doubt.
Appearing: September 6 through 8 at Davenport's in Chicago and 15 at Ballydoyle in Downers Grove.
"Michael McDermott killed that guy," McDermott says emphatically, pointing to the cover of the '91 IE with his photo on it. "My therapist said, 'Michael McDermott killed Michael Murphy,'" refferring to his birth name. "And I think he did, because that guy didn't drink, do drugs, sleep around."
McDermott's debut earned him the tag for being the next Bob Dylan or Bruce Springsteen. His songwriting style was pure Americana, though the production back then was more classic rock. What stood out was his heartfelt, universal view of life – faith and hope mired by fear and uncertainty. The song "A Wall I Must Climb" made him a name in some households, supported by an "MTV Buzz Bin" video. But his label, Giant, closed its doors, and he was tossed into the revolving door of the unsympathetic music business. He released two more albums, Gethsemane (1994) and Michael McDermott (1996) on SBK, only to go through the same thing with that label. He released another record, Bourbon Blue (1999), on his own. Koch Records picked him up, reworked and added to the previous LP and released a fresh one as Last Chance Lounge in 2000. That album received critical acclaim in the New York Times, L.A. Times, The Hollywood Reporter, Rolling Stone, and Chicago Tribune, among others. Two tracks were even featured in the New Line Cinema film Knockaround Guys, starring John Malkovich and Dennis Hopper.
McDermott's personal (and professional) journey over the last decade and a half is ripe with movie-script material, and don't be surprised if someday it becomes one; his former A&R rep Brian Koppelman and friend David Levien are now big-time film writers/producers. They wrote the 1998 flick Rounders, starring Matt Damon and Edward Norton, and paid tribute to McDermott by naming Damon's character after him. (They recently wrote the script for Ocean's Thirteen and are working on Frankie Machine with Robert DeNiro.) McDermott's last dramatic scene was getting busted with cocaine on his way into the House Of Blues to see his friend Jakob Dylan a few years ago.
Catch a preview, then read the full text in the September issue of Illinois Entertainer, available free throughout Chicagoland.
— Penelope Biver