The Magic Numbers
Shyness Follows
Prone to fits of giggling, Michele Stodart is just returning from her brother Romeo's flat where the two 20-somethings engaged in a bit of a spat. While the occasional temper flare-up between siblings doesn't surprise anyone who has one, the Stodarts' unique position puts them in continuous close range and unlike the clichéd bouts of who is taking too long in the bathroom (although likely to happen as well), this pair's battle of the sexes is pregnant with consequence. Their career depends on it.
As one half of the double-platinum U.K. group The Magic Numbers (yet another brother and sister set, Sean and Angela Gannon, complete the foursome), Romeo and Michele spend most of their time together on a tour bus where things are bound to go awry. "Me and Romeo argue the most out of all of us," the female Stodart says over the phone. "Our arguments can last a course of like a month – from throwing each other dirty looks to just not talking to each other for weeks. In a weird way music does bring us together, without sounding too cheesy."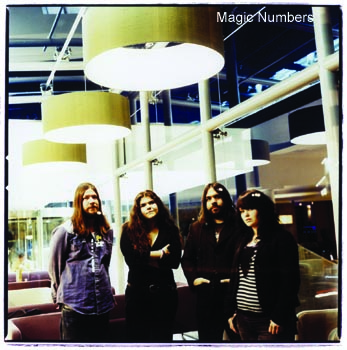 Growing up in Trinidad with an opera singer mother, Romeo and Michele shared a love of music that sustained them through a traumatic move to New York after a radical Muslim insurgence, and then to London, where they befriended the Gannon teens next door. Romeo (lead vocals/guitar/primary songwriter) and Sean (drums) played together in garage bands, an aimless teenage pastime, until they recruited their younger sisters to join. With Michele on backing vocals and bass and Angela providing more vocals and a bevy of accent instruments, The Magic Numbers took form and gigging shortly followed.
Audiences instantly lapped up the group's sunshine harmonies and down-to-earth demeanor – think The Mamas & The Papas for a new generation. Somehow in the midst of cloudy London, The Magic Numbers channeled California's '70s spirit and held firm the notion that intertwined bloodlines produce staggering vocal results, a la The Beach Boys.
With the guys sporting shaggy beards and shoulder-length hair and the girls fitted in what can only be described as bell-bottoms, they even look the part, much to the dismay of the image-conscious music biz. And they're quick to defend the look, walking off the BBC's "Top Of The Pops" after the host referred to the group's collectively hefty physique while introducing their impending performance. Of course, when the bones of even John Mayer jut out of his chest as witnessed during July's Live Earth concerts, the industry's weight standard is relative.
— Janine Schaults
Catch a preview, then read the full text in the September issue of Illinois Entertainer, available free throughout Chicagoland.