Against Me!
The Thankless Existence
Every time Against Me! frontman Tom Gabel releases an album, he's in the unique position of having to rebuild his fanbase. Every time.
Appearing: August 3rd at Lollapalooza in Chicago.
Most punk rockers are familiar with this. Their steadfastly traditional and often mind-bogglingly conservative followers react to change, well, poorly, and are later outspoken during the divorce. Circa 1997, Gabel was fortunate to have the support of some "anarcho" punks who helped spread the word of his one-man acoustic shows in such unlikely venues as laundromats. They're technically gone now, but they refuse to move on.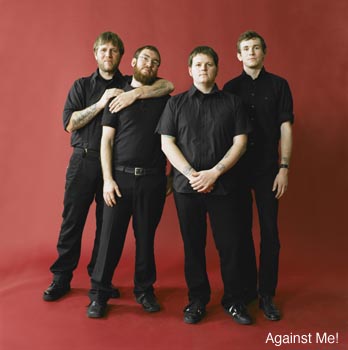 "The interview I did before [this one] was the fuckin' worst," he sighs. "He obviously had some personal fucking vendetta. He wasn't asking questions, he was just like — he was from Gainesville [Florida, Gabel's home base] — 'So, everyone around here thinks you're a big sellout.' 'Great, man. What's the fucking question? What do you want me to say here?'" he laughs.
"Good times, good times."
Against Me! are swinging for the fences this time. Having been blasted at different stages for adding electric guitars (scandal!) and even a danceable hi-hat on 2005's "Unprotected Sex With Multiple Partners," the spankin' new New Wave has a love song, a female backing vocalist, and the full backing of Warner Bros. subsidiary Sire Records.
Is Gabel crazy? "What else can you do, you know? Gotta break a few eggs to make an omelet."
One of the main reasons AM! left indie stronghold Fat Wreck Chords for the majors was the opportunity to work with producer Butch Vig (Smashing Pumpkins, Nirvana). But after past trials, Gabel isn't up to explaining himself anymore.
"At first you try to talk to people and be like, 'No, we're doing this because of these reasons,'" he says calmly. "After awhile you're like, 'You know what? It doesn't matter what I say to anybody. I'm never gonna change anybody's mind.' If that's what they feel, some people have just made the decision that they're gonna hate our band for some reason. What are you gonna do?"
"What else can you do" comes to be something of a mantra for Gabel throughout the interview, though it has already become the band's M.O. (and one their fans at any stage haven't grasped). From early demos through New Wave, the game seems to be trying to figure out what else they'd be good at, and the new album is the broadest sampler yet. The full-throttle title track and "Up The Cuts" are three-chord punk at the core, but flash ringing chords and layered choruses. It's still Against Me! but beefier in a stereo sense. "Thrash Unreal" allegorically equates a 40-year-old partier with the people around the band, something of a tradition now; its "bah-bah-bahs" seem to be laughing at someone. "Ocean" has a dub-like pulse that closes the album by pushing it out to sea.
— Steve Forstneger
To find out what really separates the new album from its forebearers, grab the August issue of Illinois Entertainer, available free throughout Chicagoland.