Selling Out Drama
DJ Drama busted, Eric Clapton brings his friends to Chicago, Paul McCartney likes his music like his coffee, and the suburbs battle the nightclubs.
The arrest of DJ Drama in January probably sped past a lot of people's minds as just another rapper in trouble, but as investigators found after charging him with racketeering, the implications were much deeper.
No, Drama (born Tyree Simmons) is not a gangster in the mafioso sense, nor a drug dealer — he creates mixtapes. Mixtapes in hip-hop have become an indispensible marketing tool for artists and the major labels either between albums or on the road to promoting a new one. It's where a lot of battles go down between the likes of Young Jeezy (right), Nas, 50 Cent, G-Unit, and The Game, providing a street-level combat zone to keep up cred in the face of glitzy videos, or to try out various mixes. The major labels, allegedly, sometimes pay for them to keep their clients' names out there.
But the trouble is the material isn't licensed. The investigation into Drama began when a Georgia police chief spotted a mixtape (actually a CD) at a mall kiosk. He noticed it didn't have any copyright info on it, which is required by Georgia law. It was traced back to Drama, an apartment raid of whom yielded thousands of dollars in pirated CDs. Helping the government was the RIAA, which is an arm of the big labels. But recently Drama himself had been hired, due to his reputation, to produce an authorized mix for Atlantic Records.
Everyone's worried, in a sagging industry, the effect this will have on hip-hop sales, which have been on a steady decline. The labels are at a crossroads.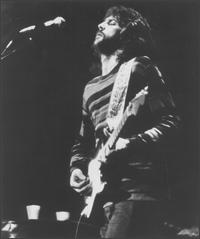 A Slow Of Hands
Announced just as we went to press, another festival is going to be added to Chicago's packed summer agenda. Eric Clapton's Crossroads Guitar Festival is on the way.
Clapton began the event as a means of contributing to the Crossroads Centre Antigua, a rehab/education facility he founded in 1997. The inaugural 2004 bonanza was in Dallas, and Chicago's will feature Robert Cray, B.B. King, Jimmie Vaughan, Sheryl Crow, Vince Gill, Robert Randolph, Derek Trucks, Buddy Guy, Jeff Beck, Willie Nelson, Alison Krauss, and so many more you might just get a crick in your neck! Details? Toyota Park. Bridgeview. July 28th. Oh, almost forgot: Steve Winwood will be on tap for a Blind Faith reunion. Tickets went on sale March 31st.
I'll Try The Macca Scone, Please
According to Fox News, Paul McCartney is leaving Capitol Records and has signed an exclusive deal with . . . Starbucks? The global coffee chain — and frequent target of Macca's eco-friendly supposed friends — has been in the music business for a short while, initially with the "Artist's Choice" series and now their Hear Music imprint. Antigone Rising was the first Hear band co-released by Lava, and the original idea was to have Starbucks breaking new acts. That hardly seems the case anymore if McCartney is in the fold, though he has hardly been a proven seller lately. Chaos & Creation In The Backyard, his last original set for Capitol, was nominated for four Grammys but has only gone gold in the United States. Despite his draw as a concert performer, none of his older solo albums rank in Billboard's Top Catalog Albums charts. Starbucks' experience in the music business might not amount to more than a hill of beans, but it's their hill! And it's their beans!
You'll Be Sorry!
Taking the law into your own hands usually equals violence, but in the case of suburban sprawl Mount Prospect, it could be the ultimate injustice. Due to growing frustration with loud, local bars and inebriated, on-the-loose clientele, homeowners could begin voting them out. The Chicago Tribune reported plans by residents of MP neighborhood "Forest River" to exploit an Illinois law, permitting a municipality to revoke liquor licenses and vote precincts dry. The establishments in question, Accent Cafe and Dick's River Cafe, were a little slow adding security guards and sound proofing, leading to an April 17th standoff. Aside from sanity won/jobs and tax money lost, the larger effect could influence townships across the counties, giving frustrated homeowners the upper hand.
— Steve Forstneger