Jerry Douglas & Paul Simon
Rosemont Theatre, Rosemont
Monday, October 16, 2006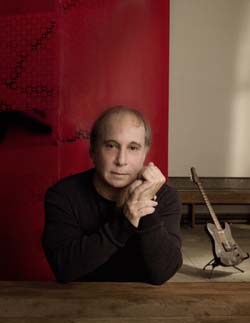 If Clapton is God, Jerry Douglas is the Holy Ghost. There are things this man can do with a dobro, or even a slide on electric guitar, that a lot of guitarists can't do with 10 fingers. And we've played enough slide to know the difference.
For the uninitiated, Douglas is a cofounder or early member of such seminal bluegrass/alt-bluegrass groups as the Country Gentlemen, JD Crowe and the New South and Boone Creek. Additionally, he spent years as a most in-demand sideman, recording nearly 1,000 albums for artists as diverse as Garth Brooks, Ray Charles, Emmylou Harris, Reba McEntire, Dolly Parton, Paul Simon, Ricky Skaggs, James Taylor, Randy Travis, and Trisha Yearwood. He aided in the production of the soundtrack for the acclaimed O Brother, Where Art Thou soundtrack and its follow-up, *Down From The Mountain. For the past eight years, he has combined his solo career with helping to anchor Alison Krauss' Union Station.
Monday night, Douglas gave just a tantalizing taste for about 40 minutes, due to this annoying point of having to vacate the stage for Paul Simon. Simon was forced to follow an amazing show, however slender it was. Douglas opened with "Takarazaka," a bluegrass showpiece for a band that has no weaknesses and followed with "The Wild Rumpus." "Have you all heard of [author Maurice Sendak's] Where The Wild Things Are?" Douglas asked the crowd. "I used to try to read my kids to sleep with that book– if you're in the crowd, Mr. Sendak, this song is payback."
"A Remark You Made" brought the tempo down, and is an introspective piece that one can imagine lyrics to, though Douglas played instrumentals all night. It is one of two (with "Who's Your Uncle," the closer) he played from his latest album, The Best Kept Secret. (It would've been nice to have heard "Swing Blues #1" from this same album, but it involves vocals by John Fogerty, which would have been understandably difficult.) There's hope, however: Douglas returns to Chicago December 2nd for a show at the Old Town School Of Folk Music. This show hopefully features more Douglas and fewer distractions like Simon.
A word about the Jerry Douglas Band: It is worth the ticket to watch drummer Doug Belote, a cajun by birth and New Yorker by drum education. It's hard to tell how much technique he absorbed in the Big Apple, and how much he innovates, but he is to percussion what Douglas is to stringed (slide) instruments. For flat picking, JDB have Floridian Guthrie Trapp. Trapp grew up around Sam Bush and Bela Fleck (his father promoted the band) and it shows.
These two helped spark things when Douglas introduced "From Ankara To Izmin." "I used to play embassies around the world and played a gig in Ankara. I had a break and decided I'd go over to Izmin on the coast. I was tired of flying and so I thought I'd take a bus. I mean, it was only this far [holding his finger and thumb about two inches apart] on the map so . . . three days later, we got to Izmin. There were guys with goats on the bus and everything. It was very comfortable . . . but we ate well." The song starts with the Middle Eastern feel you would expect, but when these virtuosos get going it winds all over the place.
"Who's Your Uncle" has that new grass feel — the place where bluegrass went to after it left the founding fathers' hands. A good place, quick, jazzy, and dizzyingly relaxing.
About this Paul Simon fellow: Simon had his work cut out for him following the intensely clean sound of JDB. His first three songs, two from the Graceland era plus "Sure Don't Feel Like Love" from his latest, Surprise, were virtually unintelligible due to horrible mixing. Certainly not the fault of the house, which is acoustically perfect. Fortunately during his first introductory break a voice in the crowd implored him to "Turn up the vocals!" The mix got progressively better as the night went on and he mixed in "How Can You Live In The Northeast," "Who's Going To Love You When Your Looks Are Gone?" (the answer is: God), and "Father And Daughter" from *Surprise with all the old favorites.
In the late '70s, Simon told an interviewer he felt his lack of skill on guitar had held him back. He was either overly modest or disingenuous. A skilled guitarist, he is probably better known as one of America's premier poet/lyricists. And he is a showman, giving the crowd what it wants, including — count 'em! — four encores. Imagine if you will even having a catalogue big enough for a full concert and four encores! His second wound down with "Bridge," which started acoustically solo, and was gradually added to by his band members. The third included "Late In The Evening," which got the crowd going again. The fourth finally wound things down with Douglas joining him for "The Boxer."
— David Roberts
Category: Live Reviews, Weekly