If You Got To Ask, You Ain't Got It (Bluebird/Legacy) is a meticulously organized three-disc musical chronicle of the short but prolific career of stride piano master, composer, vocalist, and bandleader/ entertainer Thomas "Fats" Waller. Waller was a musical genius who came streaking through life comet-like, leaving behind a musical legacy still felt today.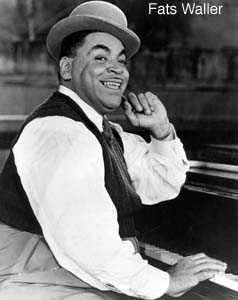 Produced by legendary jazz producer Orrin Keepnews, If You Got To Ask contains 66 tracks of vocal and instrumental performances spanning the years between 1926 and 1934. The collection is divided thematically; Disc One, "Fats Waller Sings And Plays Fats Waller," features Waller on vocals backed on some tracks by his tight group, His Rhythm, and on others by jazz notables Mezz Mezzrow and Zutty Singleton. Disc Two is "Strictly Instrumental," beginning with Waller's eerie flamenco-inspired interpretation of "St. Louis Blues" on organ and including a stunning version of James P. Johnson's "Carolina Shout." Johnson was the original stride master and Waller's teacher. The couple perform duets on "Sipi" and "Thou Swell" from the Broadway show Keep Shufflin'.
Disc Two also includes the big band version of Waller's masterpiece (and one of his last compositions), "Jitterbug Waltz." His signature tune, "Honeysuckle Rose," opens Disc One and closes Disc Two. The instrumental version on Disc Two is taken from a 1937 recording, "A Jam Session At Victor," featuring Bunny Berigan and Tommy Dorsey. On Disc Three, "Fats Sings And Plays Around With Tin Pan Alley," his sextet is augmented on "(I'll Be Glad When You're Dead) You Rascal You," by Jack Teagarden And His Orchestra and on "The Sheik Of Araby" by His Rhythm. Sultry vocalist Una Mae Carlisle joins Waller on the Tin Pan Alley favorite, "I Can't Give You Anything But Love."
If You Have To Ask's title comes from Waller's famous response to the question, "What is swing?" The music speaks for itself – the remarkable breadth of Waller's talent, his comic sensibilities, and his flawless ability to swing should delight newcomers and fans alike. Keepnews confirms Waller's inherent abilities in his introduction to the accompanying booklet when he says, "As even a casual reading of the discographical data will reveal, there are an amazing number of master numbers here that end in the notation '-1-,'" which means that many of these numbers were first takes! How often does that happen today? Jazz historian and author Dan Morgenstern writes the accompanying essay and informative analysis of the 66 tracks. The set also contains 40 previously unpublished photos from the Fats Waller archives and a bonus DVD (not received for review) of Waller from movies and "talkies." Waller died from bronchial pneumonia in 1943 at the age of 39. Musically, it seems as though he lived a lifetime.
NEW RELEASES: Singer Katherine Davis and the Chicago Boogie Ensemble, featuring legendary musicians Irwin Helfer, John Brumbach, and John Whitfield, are joined by special guests Lurrie Bell, Willie Henderson, and Kenny Smith for an all-star jam recorded at the Old Town School Of Folk Music in January. Rock This House – Live (The Sirens) blends differing musical backgrounds of this cast of veteran musicians. Davis is a stylist who can sing it all and one of the few Chicago blues women who are keeping the tradition of Bessie Smith alive. Her take on "Need A Little Sugar In My Bowl" harkens back to Smith's bawdy version, rather than the slyly suggestive take popularized by Nina Simone. Helfer too, is a traditionalist. A blues and boogie-woogie piano master, Helfer accompanied blues singer Estelle "Mama" Yancy for years . . . The legendary Velvet Lounge, formerly at 2128 1/2 S. Indiana, is no more, at least at its current location; it moved to 67 E. Cermak. You can revisit it over and over again with the new CD/DVD release by the Velvet's owner and veteran tenor man, Fred Anderson, entitled Timeless: Live At The Velvet Lounge (Delmark). Anderson grooves with a powerful and sympathetic rhythm section featuring Hamid Drake on drums and percussion and Harrison Bankhead on bass . . . Moving Uptown check out the Deep Blue Organ Trio's Goin' To Town Live At the Green Mill. (Delmark). The CD/DVD set captures this super-trio, featuring Chris Foreman on B3, Bobby Broom on guitar, and 3Greg Rockingham on drums, improvising their way through two nights of tight and soulful jazz and blues grooves. The DVD was shot with multiple cameras to enhance the live feel, and the montage effect throughout is in sync with the oneness of the sound . . . Also recorded at the original Velvet Lounge is AACM saxophonist Ernest Dawkins' New Horizons Ensemble CD/DVD set, The Messenger (Delmark). Fans of progressive jazz might like this one.
UPCOMING RELEASES: Get ready for the October 31st release of Can't Quit The Blues (Silvertone/Legacy), Buddy Guy's long-overdue, first ever box set covering his recording career from 1957 to the present. The three-CD set includes a two-hour DVD and a 40-page color booklet. Buddy's record release party will be held at Legends on November 30th. It should be a helluva party!
Otis Rush is also honored with a box set released in Japan this month. Otis Rush: The Cobra Singles (P-Vine) is a limited-edition re-issue set of Rush's eight Cobra singles on 7-inch vinyl, complete with the original Cobra logo and a rare 8-by-10 glossy photo of Rush from that period. The Cobra Singles can be purchased on the Web direct from P-Vine at www.p-vine.com.
– Beverly Zeldin-Palmer
Category: Monthly, Sweet Home