THE NOTORIOUS BETTIE PAGE
HBO Video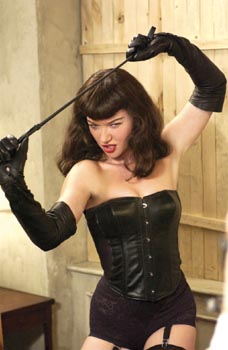 It seems almost quaint now. It's also a little sad. In 1955, Senate hearings were conducted looking into the effects of pornography on the nation. The main target: a mild-mannered businessman and photographer named Irving Klaw and his sister Paula. Also in the crosshairs, the Klaws' most famous model, Bettie Page. With those hearings, the opening shot of the ongoing culture war was fired.
Over the years, Page has gone from pulp magazine cover girl, to an icon whose image and influence still registers today. The Notorious Bettie Page shows a woman whose life proves to be a fascinating dichotomy. Raised as a Southern Baptist, her modeling work consisted of cheese cake photos, occasional nudity, and bondage. While she remained devoutly religious, she never saw anything wrong with the photos she was taking.
Page began modeling in the photo clubs of New York. In these clubs, men (and a few women) would meet up to snap shots of scantily clad women. With Page's infectious smile and sunny personality, she soon became a photo club favorite. Out of this, she soon found work modeling for men's magazines such as Wink, Titter, and various others with like titles. She soon found her way to the Klaws, and it was through them she gained her "notoriety."
Irving Klaw ran a shop that sold movie memorabilia such as studio stills. When he noticed that some of his biggest sellers were photos involving bondage and spanking from mainstream films, he decided to produce photos of his own — unknowingly, but almost single-handedly, launching the fetish industry as we know it. This is what the government took notice of.
Director Mary Harron's film covers the subject matter without a hint of judgment about either side of the issue. Bettie (as played wonderfully by Gretchen Mol) is portrayed as a woman whose life, if not for graduating second in her class and missing out on a scholarship, could have taken a turn in a vastly different direction. As it is, she embraces it. The Klaws are simply business people catering to the market, and even chairman of the hearings, Senator Estes Kefauver (David Strathairn in a role polar opposite to his in Good Night, And Good Luck) is just a man trying to get the facts. The film's only misstep, however, is in portraying all the fetishists as leering perverts, not the case in real life.
The disc contains commentary by Harron, Mol, and writer Guinevere Turner, as well as a short film of the real Bettie.
The irony of Bettie Page is that for all the bluster over her work at the time, there's nothing in her portfolio that isn't seen in the mainstream culture today. And, as with all of the other "assaults on our values" since, the world is still turning.
Film: ***1/2 Features: ***
NIRVANA: LIVE! TONIGHT! SOLD OUT!!
Universal Music
Speaking of icons, Universal Music releases Nirvana: Live! Tonight! Sold Out!! for the first time on DVD.
Originally released in 1994, the video comprises concert footage, interviews, and backstage antics of the seminal band and cultural turning point.
The vid captures a group that is coming to grips with being the biggest band in the world, all the while seemingly fighting against it with every fiber of their being; Kurt Cobain in particular. Perhaps it was the knowledge that his reaction to the corporate rock system spawned an entirely new rock industry that drove him over the edge. We'll never know.
Compiled by Dave Grohl and Krist Novoselic after Cobain's death, Sold Out!! features rare footage of the band all the way from dives in Dallas to mega festivals in Brazil. Along the way there are interviews decrying bands like Extreme and music industry insiders in general.
The disc has been remastered to bump up the color quality, and the conversion to 5.1 sound is surprisingly good. Usually, remastered sound is spotty at best, but it really works well here. There are also five extra songs taped at a concert in Amsterdam.
Cobain remains an enigma to this day: an artist who craved creative success, yet detested actual success. Though probably unintentionally, Live! Tonight! Sold Out!! often shows just how uncomfortable he was in the trappings of his own world.
DVD: *** Features: **1/2
— Timothy Hiatt