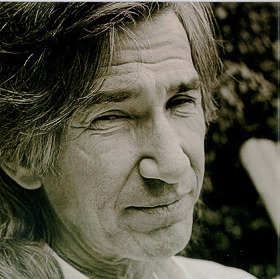 Townes Van Zandt: Be Here To Love Me
Palm Pictures

Margaret Brown
's sympathetic tale of "legendary" singer-songwriter
Townes Van Zandt
plots a line between family and art, arguing Van Zandt's ambivalence toward both led to his premature death at 52. Utlizing family movies, live footage, and interviews with
Willie Nelson, Steve Earle, Guy Clark
, and Van Zandt,
Be Here To Love Me
still only manages to scratch the surface of a troubled, troubled man.
What is known of Van Zandt is his young death was pretty much preordained. In the documentary's final scenes, shot during his funeral service, Guy Clark straps on a guitar and jokes he booked the gig 30 years ago and the congregation laughs. A fondness for and eventual dependence on alcohol shuttered Van Zandt from the reach of others.
But we never really know why he drinks so much. Time is spent on the fact he was given electro-shock therapy as a teen because doctors thought he was a danger to himself, but ECT can't fully be blamed since it was a wild streak that won him the procedure in the first place. Growing up in a relatively affluent Texan family, we learnVan Zandt was a popular kid who excelled at baseball, football, and wrestling, and would even join the army. The collision of his life and the '60s counterculture introduced makeshift, glue-based drugs, but on his own he devloped the kind of behavior that found him purposefully falling backwards from a fourth-story balcony. He explains the stunt as curiosity, but the film uses it to define his approach to everything but songwriting.
We know he marries three times, but don't know how he courted these women. Instead of dragging us through the pain of two divorces, Brown only infers them when introducing new spouses. His children hardly know him. Steve Earle recounts an incident that haunted him for years, one where Van Zandt played solo Russian Roulette in front of him three times in a matter of seconds. And he sabotaged potentially his biggest tour by breaking some bones. His whole life seems ancillary at best to his musical duties.
The only way people really knew him was through his songwriting. Emmylou Harris jockeys and dismisses all other versions of his "If I Needed You" except hers; Willie Nelson and Merle Haggard gamely discuss coming upon "Pancho & Lefty"; and Kris Kristofferson, Joe Ely, and others speak of the levelling nature of "Waiting Around To Die" and the movie's title tune. They speak of a man so compelled by the idea of writing "great" songs he would put himself through hard living just to squeeze more out. Yet success never drove him.
Aside from Guy Clark's quip at the funeral, perspective finally arrives from outsider Steve Shelley, drummer for Sonic Youth and written-in producer for Van Zandt's final recording sessions. Shelley is practically dumbfounded, having never met Van Zandt, someone could be allowed to live like that. When the songwriter is rolled into the studio in a wheelchair and can't muster his faculties enough to track anything significant, Shelley cancels the sessions. It's the only prima facie evidence — too late for Van Zandt as it would turn out — Brown provides of someone unwilling to ignore his problems. It's also when we find out how close to the end he is, though the why never comes.
So Brown's portrait ultimately succeeds in not knowing just as Van Zandt's peers didn't. Bleakly, there are some people who refuse help, and you just have to watch.
****
— Steve Forstneger
Be Here To Love Me is being screened Friday, January 6th, at the Music Box (3733 N. Southport) in Chicago.