The World According To Mancow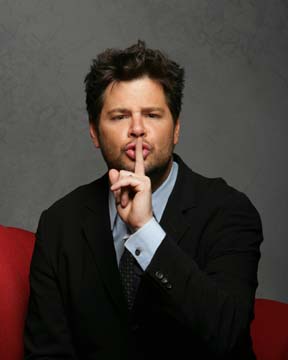 The Merchandise Mart is bustling with business long before many people's alarms have gone off. People in smart suits populate the various stores and restaurants — cutting deals, spending money. In Q101's headquarters on the second floor, a flurry of activity makes what's going on outside its doors seem pretty sedate. The main hallway is strewn with luggage and band gear. Engineers run back and forth disappearing into different rooms. A studio off the hall houses some L.A.-chic handlers who listen and laugh at the current broadcast where comedian Kathy Griffin is cracking the place up. Lounging nearby some barely-legal looking gals in thigh-high stiletto boots, fishnets, and micro minis suggestively lick lollipops while people with names like Freak and J. Love scurry past. A program director from Iowa, a band entourage, label folks, and a writer in need of some serious caffeine try to stay out of the way.
Meanwhile, on-air calls come in from around the country and soon Korn, who have been in and out of the main studio entertaining on-air, is warming up in the "Lava Lounge" at the end of the hall. They hilariously riff on a Limp Bizkit tune during soundcheck. All the while the conductor commands the main studio, never missing a beat. It's all chaos off-air, but on-air the momentum flows seamlessly between guests, juvenile quips, and other repartee. He's on and pumped and has been since 5:30 a.m. By the time 8 a.m. rolls around, the energy only seems to be building — with two more hours to go.
Welcome to a day in the life of "Mancow's Morning Madhouse." Erich "Mancow" Muller has been a Chicago radio staple since 1994. In that time, he has earned millions, had his own briefly aired TV show, contributes on-camera daily to Fox News Channel, garnered unprecedented fines from the FCC, and is syndicated nationwide. Love him or hate him (and it's safe to say he gets both in equal doses), Mancow's show may be sophomoric — "I'm very immature," he says — but that's far from the truth talking to him off-air. With the ever-changing radio landscape (in particular the self-proclaimed "King Of Media" jumping to Sirius Satellite Radio January 9th) and a steady stream of new affiliates adding "Mancow's Morning Madhouse" at a rapid pace, Mancow is taking his success to a new level.
"My commitment is to have the number one radio show in America — number one morning radio show in America, syndicated," says Mancow. As far as where he is in terms of reaching his goal, he contends, "Where am I now? I'm number one! I don't know who's bigger, there may not be anyone bigger right now."
No doubt Howard Stern's exodus from terrestrial radio will help the cause. But Mancow looks at it differently: "I've always pictured [Stern] being there just because he's always been there so I never, it had little effect on me when I found out he was leaving. But I think 'Mr. Free Speech' now charging people [for his services], that's really what it is — it's retirement. He's ready to retire and, I mean he's taking off 10 weeks a year, he's working four days a week — one day a week is a replay, they're running commercials, I mean this is what [Johnny] Carson did at the end.
"But look, am I glad to have him out of the arena? Absolutely . . . I met with his bosses in New York, a guy named Joel Hollander, and I certainly can understand why Stern isn't a fan of his. And he said that we know you want to come to New York, 'Everyone in radio wants New York,' and I said, 'I don't' . . . I certainly want some of the affiliates and I think the guy that goes on after Stern will fail," he believes. "The people they brought on after me on Rock 103.5, they failed within a couple of weeks. And David Lee Roth is not going to, he's not going to cut it for people, so it's gonna be — we are about to see just colossal misfires all over the country. These stations are gonna drop like dominos and either I will take them as one of them or I'll take them from across the street, you see what I'm saying?
"I don't really want to go into the markets as The Guy That Replaced Stern. I want them as Mancow and take the audience, which is what we're doing and I really think [naming a "next" Stern] is the kiss of death and I keep thinking to myself, 'This really can't be their plan. They can't really be this stupid.'"
Like all of the broadcast industry, "Mancow's Morning Madhouse" has seen many changes in recent times, with the FCC cracking down on "indecency" a big part of the equation. Stern cites it as a major reason for his move to satellite radio. Mancow's show has toned down in comparison to its early years, though he insists the change has little to do with the government. At 38, he's married and the new father of twin daughters. He has grown up — at least a little bit. "The government did not have as much effect on me as 9/11 did. And that's a really long story. I was on the Fox News Channel, broadcasting around the world and they were debating whether the first plane was an accident and I'm screaming, 'Come on, it's not an accident and that second plane hit and they evacuated my building' . . . They evacuated. And I stayed on.
"And anyone who was downtown . . . there were no police, there were no stoplights, cars were up on sidewalks, people were running and this building that our radio station is in the Merchandise Mart — it's also a world trade center and there was some thought that it was targeted and the Sears Tower was gonna come down and we didn't know where planes were gonna drop. And it was at that moment, as I was driving home . . . that I started to question my existence, and so for the first time thinking about my life and I just wanted to do more with the show than talk to strippers and porn stars.
"That was in my life, you know that was a big turning point and it's been a great thing for me. It was a wake up call for me. So that I would say is [what changed the most], plus the fact that people don't seem to realize that you know, taking a carp and jamming it in some girl was fun when I was in my early 20s — not so much fun now," he contends.
Fear not, those who enjoy the bawdier side of the morning show. Mancow still challenges the FCC's rulings when it comes to double entendres and says he doesn't have any less freedom than he had in the early years. "Hearing a bunch of curse words is not entertaining . . . and a lot of these radio shows, for better or worse, had to be chased off terrestrial radio — mainstream radio — because they couldn't do anything else other than voyeuristic stuff and what's happened is . . . these shows are not hitting.
"[However], there are certain things that I can't say. Hot Carl is one, which is ridiculous . . . I can't believe that anyone from the government knows what a Hot Carl [sex act involving defecation] is," he says. "Today I wanted to talk about George Michael's getting married and he wants a new jigsaw so he can cut his own glory holes. "Glory hole" [clandestinely built pleasure holes in mens' rooms] is something you can't say . . . So there are weird, stupid little things like that I can't understand that are frustrating. But I don't need to say the F-word, I don't need to say the C-word, and where I've been able to succeed has really been a blessing for me because people have — the other shows really couldn't do anything else . . . and we've been able to evolve."
While his show has perhaps "matured" to some degree, Mancow's ambitions have grown as well. He has had some forays in television and plans for more in this arena in the near future.
"I have committed to this morning radio show — I want to do this show. I would say 2010 is my feeling, is right around that time we'll start winding down. That's my goal right now . . . I think we've got another five years strong in us, I feel better about the show than I've ever felt, and I do think there's some TV opportunities. Fox has offered me a TV show, Fox News Channel. We were in talks with Sony . . . But the radio show's gonna be a constant."
Paving the path to new challenges, he has also learned a thing or two from some unlikely sources.
"I'd love to do something like Ryan Seacrest, host some crappy show . . . He does suck and he kicked my ass, he actually kicked my ass. Let me tell ya. I was on the air insulting him. He started on a station called KISS-FM, and I started making fun of him — you know, the typical manly man, easy stuff that I do. And questioning his masculinity and making fun of his hair, I'm not much for a guy with highlights in their hair," he laughs. "So I was making fun of Ryan Seacrest and he started calling me. And I'm ready to fight, because in Chicago; I've had to fight — I've had some doozies . . . I'm half asleep and he gets me on my cell phone at home and he calls up and he goes, 'Welcome to L.A. I just saw your billboard. You should be a TV star. You're not fat and ugly like everybody else in radio. You are really good looking . . . And your show, my God. You're the most talented man I think, I think it's the greatest radio show that ever . . . I've never heard anything as wonderful as you' — and I'm just smiling. And I'm just, 'Thank you, thank you Ryan.' And I hung up the phone and my wife says, 'What just happened?' And I said, 'Honey, Ryan Seacrest just kicked my ass.' And it's a very Hollywood, slick as poop through a goose way of getting to somebody. And I learned something. I learned something very important from him. You know Danny Bonaduce and I had nearly a fistfight at the Hancock Center. [Steve] Dahl and I have had our go arounds . . . "
—Althea Legaspi
Wanna hear what else might come out of his mouth? Pick up the January edition of Illinois Entertainer, available now.