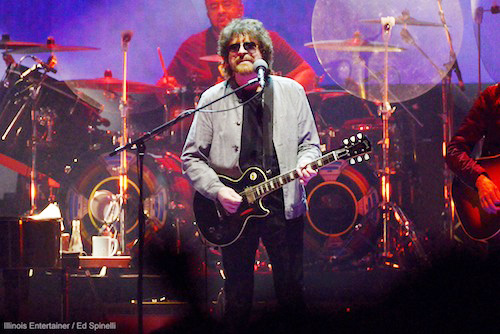 Jeff Lynne's ELO
United Center, Chicago, IL
Saturday, July 27, 2019
After a 37-year gap as of 2018, many Chicago-based fans of the Electric Light Orchestra had resigned themselves to enjoying their favorite ELO music through their record collections – or perhaps by catching "Mr. Blue Sky" on repeated views of Guardians of the Galaxy Vol. 2. But on Saturday night, the Wurlitzer jukebox spaceship landed in Chicago for a second time in recent memory. The concert at United Center was just three weeks shy of a year since Jeff Lynne's ELO performed at Allstate Arena. On the band's 2019 jaunt, Chicago was among few cities to receive a return visit.
Lynne claimed to be as pleasantly surprised as anybody. "I can't believe we're back here already," said Lynne after playing "Evil Woman" and sending greetings to all of Chicago. "Thank you for coming. It sounds like you're in really good form."
The show had opened with the grandeur of "Standing in the Rain" from 1977's Out of the Blue. In addition to its core rock and roll engine, Lynne's lineup included three keyboardists, two cellists and a violinist to help create ELO's symphonic sound. Violinist Jessie Murphy was featured during the melodramatic opening of "Livin' Thing," and soprano Melanie Lewis McDonald took the spotlight on the operatic introduction to "Rockaria!"
The set list was a true-blue crowd-pleaser, packing 20 hits into a 95-minute set. Diehard fans probably hoped for the reemergence of a deep cut like "Steppin' Out" or a fresh dusting of "Twilight" from 1981's Time album, but it was hard to complain. "Strange Magic" was among the minimal number of conspicuous omissions.
Much of the set mirrored what Lynne and his 12-piece band played last year, but there were additions and enhancements. "Last Train to London" was a fresh selection from 1979's Discovery album, joining the club-friendly "Shine a Little Love" (replete with hand-clap breakdown and classic '70s laser-light show) and rock stomper "Don't Bring Me Down," given pile-driving percussion by drummer Donovan Hepburn. "Last Train to London" gave bassist Lee Pomeroy time to shine as he tackled the song's galloping disco riff and tricky fills with a thousand-watt smile on his face. Lynne tweaked the evening's pacing by moving the placement of songs including "Telephone Line."
Among the thousands gathered at United Center, there were surely a couple of cross-genre fans who had seen country heartbreak maven John Paul White of The Civil Wars perform his beautifully reinvented version of "Can't Get it Out of My Head" at Lincoln Hall just two nights earlier. But here at United Center was the original writer, singing the melancholy masterpiece in full flourish with breathtaking instrumentation.
The showstopper was the surprise appearance of opening act Dhani Harrison, who stood in for his late father George during a rollicking romp through "Handle With Care" by what Lynne referred to as "my other group, the Traveling Wilburys." The younger Harrison's opening set had featured spacefaring psych-pop from his 2017 album IN///PARALLEL and prior band thenewno2, settling more closely to the Radiohead and Muse camps than Beatle territory. Still, there was no denying the remarkable similarity of the son's singing voice to his beloved dad's warm and tremulous tenor. Images behind the band reminded of the crowd of Tom Petty and Roy Orbison, also dearly departed from the Wilburys lineup.
The newest song aired was "When I Was a Boy" from 2015's Alone in the Universe. Lynne packed the song's lilting melody with drama and sentiment, supported by a descending chord progression reminiscent of Mott the Hoople and David Bowie's "All the Young Dudes." It fit as a worthy addition to the ELO canon, and implied that Lynne has ample fuel left in the songwriting tank for lovers of the classic ELO sound.
As the big night neared its apex, Marcus Byrne duplicated original ELO keyboardist Richard Tandy's robotic vocoder hook to Out of the Blue's "Sweet Talkin' Woman." Following the adrenaline rush of "Turn to Stone" and the euphoric "Mr. Blue Sky" from the same album, Lynne and company left the stage.
The band returned for an encore of the song that informed the band's blueprint, Chuck Berry's immortal "Roll Over Beethoven." Another visit in 2020 may be too much to expect, but thousands of Chicago fans will be ready to sing along anytime Lynne wants to set the spaceship down in the VIP lot and gather them for a trip through musical galaxies both familiar and unknown. Beam me up, Jeff!
Review by Jeff Elbel; Photo by Ed Spinelli (gallery appears soon)
Category: Live Reviews