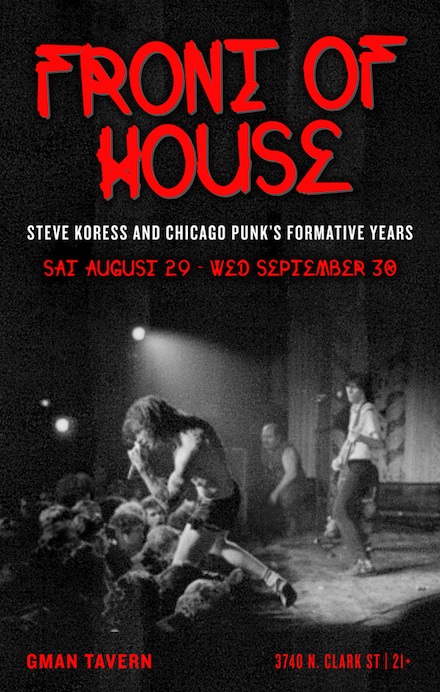 Chicago's amazing musical legacy spans back to the 1920s with the arrival of jazz and later – the migration of the blues to the shores of Lake Michigan. Surprisingly, that legacy is poorly documented. Other than museums like the Blues Heaven Foundation, The Chicago History Museum and anomalies like the Hard Rock Cafe, Chicago's music history is hidden in the photo files and websites of publications like The Chicago Tribune, Sun-Times, Chicago Reader, and even IE.
Chicago's punk rock history is even more mysterious. Fortunately, the legacy behind bands like Naked Raygun are documented this month in a photo exhibit at the GMan Tavern on Clark Street: FRONT OF HOUSE: STEVE KORESS AND CHICAGO PUNK'S FORMATIVE YEARS  Photography Celebrating Chicago's Adolescent Punk Scene from 1980 to the early 1990s.
Naked Raygun, circa 1984 (photo Steve Koress)
Koress' exhibit is a "selection of photographs from the artist's archives documenting Chicago's adolescent punk scene from 1980 through to the early 1990s. As the house photographer of The Riviera, International Amphitheater, and Metro, Koress frequented the stages and backstage of shows from its golden era. Koress' images present a unique focal point, often from the band's point of view. Koress, physically on stage photographing The Dead Kennedys, The Ramones, Red Hot Chili Peppers, The Replacements, or on a catwalk dangling above Naked Raygun, captured the most punk of rock moments of Chicago's music scene during that time. Essentially a part of many performances, Koress was welcomed into the action on and off the stage often inviting musicians back to his studio."
Until a proper Chicago music history museum thoroughly documents our incredible legacy, exhibits like Front Of House are important glimpses into the Windy City's musical heritage.
The Front Of House photo exhibit runs through September 30th at GMan Tavern (3740 N. Clark Chicago)
Category: Stage Buzz