L to R: Astro, Ali Campbelll, Mickey Virtue (UB40)
Vocalist Ali Campbell, the seminal voice of British 2-Tone era reggae band, UB40, is also the son of Birmingham folk legend, Ian Campbell. Talk about a family legacy.
Sadly, Campbell left the UBs in 2008 and confusion (and financial ruin for the original band) has reigned with casual fans, while diehards took the split personally. Both bands have been in an ugly legal battle over the name for several years. The fallout has also affected the Campbell family, with brothers Robin and Duncan still fronting the original UB40. Ali calls his brothers "the darkside."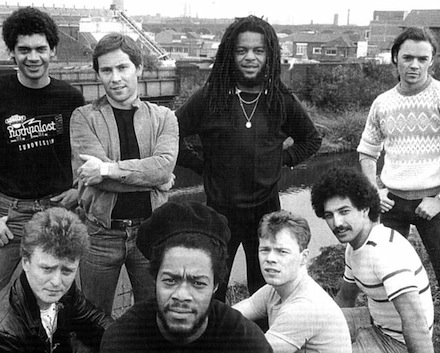 UB40 (1980), Ali Campbell – bottom center/right
Campbell's version of the UBs features refugee former co-founders Astro and Mickey Virtue. Arriving at Concord Hall Saturday, the trio ride on a critical legacy of their early roots tracks like "One In Ten," "Present Arms," and "King."
Yolking Jamaican reggae crooners that he's admired growing up in the '70s, (John Holt, Jimmy Cliff), Campbell has dabbled heavily into cover songs with his former band ("Red Red Wine," "Kingston Town," "Can't Help Falling in Love"), that became million selling hits for UB40 in the 1980s, along with their Labour Of Love albums. His new album Silhouette is cover heavy too, with the Beatles' "Anytime At All" and Bob Dylan's "I Want You," anchoring it.
With the legal clouds surrounding the rival camps, Ali, Astro and Mickey will be bringing the crowd on Milwaukee Avenue covers like "Red, Red, Wine." Don't expect to hear anything from Signing Off, Geoffery Morgan or their final album Who Are You Fighting For? With lawyers involved, UB40 originals will be left in Birmingham.
Campbell's soulful voice, perhaps the best in reggae – has gotten better with age. Like Sinatra, his longtime cigarette habit has actual enhanced Ali's timbre. We'll take it, of course. We just wish he'd bury the hatchet with his former band of brothers.
Saturday, Sept 19th, Concord Hall
– John Vernon
Category: Featured, Stage Buzz, Weekly