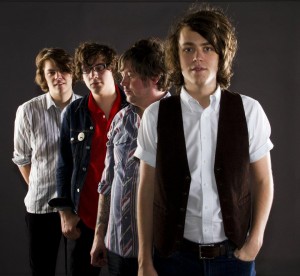 RUN, TRAPPER. RUN!
Twice we've seen Milwaukee-based Trapper Schoepp & The Shades as openers, and on both occasions the upstarts matched the headliners (in our case The Wallflowers at Park West and Cory Chisel And The Wandering Sons at Bottom Lounge) in energy, charisma, and musicianship. Not a huge deal, until you notice the band's namesake won't be able to sprout a proper beard for a few years. The baby-faced 22-year-old possesses a keen voice, both in front of the mic and behind a pen, as evidenced by his self-assured label debut, Run, Engine, Run (SideOneDummy). Along with harmonizing brother Tanner on bass, Jon Phillip on drums, Graham Hunter on guitar, and secret weapon Gina Romantini on violin, Schoepp blurs the lines between country, folk, and punk on compositions that wistfully bid adieu to the obligations holding one down to a specific place and time ("So Long") and impart clear-eyed memories of a grandfather's last gift (the title track). The band recently conquered SXSW (as much as anyone does at the overcrowded shit show) in Austin where they literally ran into Dave Grohl and found themselves sharing a stage with Jakob Dylan, Wallflowers' keyboardist Rami Jaffee, and Bob Dylan's guitarist Charlie Sexton when the trio hijacked the set to jam on "One Headlight." The run of impressive opening slots continues on June 15 in Manitowoc, Wis., with Alejandro Escovedo and in Milwaukee on June 20 with Old 97's. For more info, visit trapperschoepp.com.
YOUR DESIGN HERE
The first thing we look for when deciding to purchase a concert tee is the brand. The difference between appearing as bulky as the Hulk and our normal selves (you don't really think we'd divulge our actual size?) is as simple as American Apparel vs. Fruit of the Loom. Next, we eye the graphic. You have a chance to make history by designing the official T-shirt for the Q87.7 PIQNIQ, hosted by WKQX-FM (87.7) on June 29 at First Midwest Bank Amphitheatre. The inaugural all-ages, daylong summer spectacle features two stages of music with Yeah Yeah Yeahs, Bush, Awolnation, Silversun Pickups, Atlas Genius, Cold War Kids, and a slew more set to play. The deadline for submissions expires at 10 a.m. on June 7 with finalists named later that same day. The public then votes on the winning design until June 14. The artist with the most votes receives $500, VIP-on-steroids treatment for two, and the satisfaction of seeing the sunburned throngs wearing a T-shirt emblazoned with the image. Some things to remember: The design can't include band names, it's only for the front of the shirt, and use the template available at q87.7.com/piqniq.
PUT A FORK IN IT
At this juncture you've probably decided whether or not to attend the annual Pitchfork Music Festival taking place in Union Park between July 19 and 21. It's not exactly the sort of thing one does on a whim. Mostly because the typical scarcity of tickets prevents last-minute plans, and if the music website fails to fall on your radar, then acts like Portland's Glass Candy and noise rockers Pissed Jeans are probably just as foreign and therefore unattractive.  The headliners should spark a modicum of recognition if only for their tabloid pasts. Who doesn't remember Bjork's swan getup at the Oscars? Or R. Kelly's legal woes? The real question is, what's the point of a preview if it only preaches to the choir? Actually, the goal of this blurb, one droplet in an endless sea of persuasive prose, lies in reaching the us of three years ago. Let's call it our pre-Pitchfork era – that period of time when we turned a blind eye to the weekend because of a silly concern about the clientele and their ironic moustaches and thick-rimmed glasses. We were so young then and stupid. As Jimmy Kimmel proved with his man-on-the-street video at Coachella, every large gathering brings out attention seekers who couldn't pick out Belle or Sebastian from a lineup. Don't let the guy in gold lamé pants (and yes, that's exactly who we saw upon entering Union Park for the first time) deter you from letting Phosphorescent's whiskey-soaked croak turn your knees into Jell-O.
— Janine Schaults