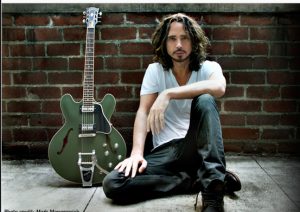 Gibson Guitars
Chris Cornell Signature
ES-335 Guitar
One of Gibson's latest guitar mash-ups is a collaboration with Soundgarden and Audioslave guitarist/vocalist Chris Cornell. Teaming up with the Memphis division of the company, Cornell designed two special edition guitars that are available as limited-edition models at Gibson authorized dealers.
First up is a Gibson ES-335 with LollarTron pickups (made famous in 1950s versions of the guitar) and a Bigsby vibrato in army green, followed by an ES-335 with LollarTron pickups in flat black. Each model is made with brushed nickel hardware and Grover brushed nickel machine heads and tuners. Both are crafted to mirror the original "dot neck" 335s of the late 1950s, with a semi-hollow body constructed from laminated maple with bound top and back and a solid maple center block. Cornell and Gibson wanted to combine traditional archtop features with modern sonic depth; the solid body has lasting sustain and resistance to feedback.
The neck on Cornell's ES-335 is made from solid mahogany with a bound fingerboard carved from hand-selected rosewood, inlaid with simple pearloid dot position markers, while the headstock carries a mother-of-pearl Gibson logo and crown inlay.
Both guitars will be sold in a heavy-duty Gibson hardcase signed by Cornell. Only 250 of each model have been manufactured for purchase, which comes with a limited-edition street price in the $3,000 to $4,000 range.
As you can imagine, Cornell is "honored to have designed a Signature guitar for Gibson and looks forward to using it on tour with Soundgarden," according to a company press release.
Coincidentally, Cornell and Soundgarden just released their first new studio album in over 16 years, King Animal. For more details visit gibson.com.
Ultrasound
Ultrasound AG15M
Acoustic Amplifier
Arizona-based, and Des Moines, Iowa-made Ultrasound Amps downsized their amp selection, and that's a good thing.
The Dean Markley-owned company is now offering an entry-level acoustic guitar amp: the AG15M. The company says it's packed with "award-winning Ultrasound Tone at a very affordable price."
The Ultrasound AG15M acoustic amp is a starter amp – housed in a light yet robust amplifier – perfect for acoustic guitar players looking to amplify their instrument in smaller venues like small clubs and coffeehouses.
Ultrasound's 8-inch coaxial speaker is known for its warm low and mid-frequency response as well as its coaxial tweeter for clean high end.
The user-friendly front panel features volume control, a 4-Band EQ, and a stereo headphone jack. The rear panel accommodates two channels: a mic XLR input with separate volume and a second designed to amplify fiddles, mandolins, guitars, and any other acoustic instrument. At 15 watts, it has enough power to get your instrument heard in an intimate venue.
Weighing in at just under 17 pounds and 11 inches tall by 15 inches wide (and 9 inches deep), the AG15M is designed for optimal portability without sacrificing performance or tone. MSRP: $299. For more information, please visit ultrasoundamps.com.
Seymour Duncan
Nazgûl Guitar Pickups
Seymour Duncan says its Nazgûl pickup is "a weapon of tonal Armageddon."
The pickup gives chords "heavy saturation and produces a lightning-fast response to your amp." It's meant for all "high output metal needs in which sonic obliteration needs to be accomplished."
The Nazgûl is available for seven and eight-string players and starts at $119 MSRP. Visit seymourduncan.com for more info.
— David Gedge