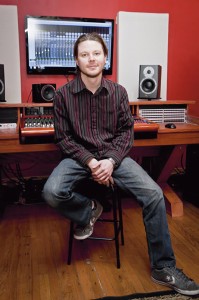 With a considerable background owning rehearsal facilities on the city's North Side, the owners of Big River Recording Company have made the logical jump into the recording business.
With a 2,300-square-foot recording facility in the storied Pilsen neighborhood of Chicago, Big River's new facilities feature a large live room, two ISO rooms, a control room, a large lounge area, and most importantly: a studio that houses some great recording gear, mics, amps, and instruments. The rooms were acoustically designed with versatility in mind "in order to achieve any type of sound," according to chief engineer/producer Brad McGrath and engineer Tony Munoz. Both men "have worked on all styles of music as well as audio for film/video, jingles, voice-overs, and Foley."
Recent sessions at Big River include: Mr. F, who was in recording and mixing their new EP; Shift tracked and mixed their new album; rockers Juzt Nutz shot two music videos after they recorded and mixed their new singles; My My My was in working on new material, while 55 is in tracking and mixing a new EP. Lil' Prophet continues to record his  highly anticipated upcoming album. Hip-hop artists Jezi (aka Dishwasha) and DoNool were in recently recording new material.
To celebrate the opening of the studio last month, McGrath kicked off the first "Big River Open Jam Night," which Munoz said "was a ton of fun." New customers looking for a tour and to set up a session can check out bigriverrecording.com for more information.
At Million Yen: Andy Gerber produced and recorded The Tossers' Emerald City for Victory Records. Ken Sluiter (Weezer, Metallica) came to town to mix the South Siders' long-player. Local H recorded covers and alternate versions for the Another February EP on Slimstyle Records. Gerber also helmed The Cruel Summer EP for Scott Lucas And The Married Men on The End Records. Also tracking album projects with Gerber are I Love Rich, JIP, The Great Whiskey Project, Lost In Blue, Bored Youth, and Steve Knecht . . . Million Yen producer/engineer Jeff Dean recorded Braid for a 7″ single. Dean also remixed Samiam's Whatever's Got You Down for Hopeless Records. Sciphonic Productions recorded The Kuhls Holy Rollin' album and a single for L.A.B. on Golden Beast Records.
At Horse-drawn Recording in Berwyn, owner Eric Yoder tracked When Wealthy Fell, who he describes as a "powerful five-piece rock band from the Stickney/Berwyn area." The band just released a three-song EP called The Giving. The session was engineered by TJ Martin of Backhouse Productions. The band consists of  Justin Konicek (vocals), Jeff Kroc and Artan Sakiri (guitars), Brian Boron (bass), and Jay Sharp (drums). Download the free EP at horse-drawnproductions.com.
Hey Studiophiler: To get your studio or band listed in "Studiophile," just e-mail info on who you're recording or who's recording you to ed@illinoisentertainer.com, subject Studiophile, or fax (773) 751-5051. We reserve the right to edit submissions for space. Deadline for July 2013 issue is June 15th.
Category: Columns, Monthly, Studiophile