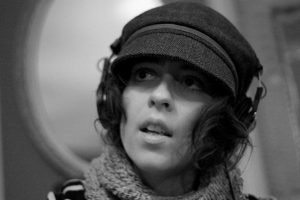 It's been six years since the release of her debut album . . . this side of yesterday, but January marks the return of indie-folk singer/songwriter Martha Berner. Her long-awaited full-length follow-up, Fool's Fanatsy, also bears the stamp of her new band, The Significant Others. The entire album was recorded at Chicago's Stranded On A Planet studio with producer and Signifi-cant Others' guitarist Scott Fritz, and was mastered by four-time Grammy winner Gavin Lurssen (Robert Plant & Alison Krauss, Cat Power, Tom Waits, Leonard Cohen). While this new material still incorporates the Chicago-based (via Williams Bay, WI) musician's trademark whiskey-and-honey vocals and thought-provoking subjects that stretch across folk, pop and Americana, Fool's Fantasy marks Berner's first true band effort – incorporating elements of Stax soul, insurgent country, and the unbridled passion of late '60s rock 'n' roll. Read the full story in next month's IE.
At BOBDOG STUDIOS in Oak Park, The Puffins just completed their CD Shades Of Blue . . . Power popmeisters Treeshakers mixed their forthcoming album . . . Dav Ero began tracking his latest project . . . Cedes De La Paz Buck prepped the release of her first EP . . . Scott Fortman's The New Normal recorded some of its debut record; owner/producer/engineer Bill Kavanagh provided bass tracks on both The New Normal and Cedes Buck's projects.
South Side swamp-rock band, Convoy, worked on recording their latest project, Blue Collar America, at ROCK LOUNGE in Westmont with producer/engineer Johnny Million. The CD is scheduled for a 2012 spring release.
West suburban-based Champions tracked their fully original new record – due January 20th – at the Gallery of Carpet in Villa Park. Owner Brian Zieske served as engineer/producer, and the studio also handled the mastering.
Strobe Recording in Chicago tracked California Wives, Vagrant Records, Frank Catalano, Cains and Abels, Whistler Records, and Wally Dogger projects in the studio.
UPTOWN RECORDING in Chicago has upgraded to ProTools 10HD. For most studios, all software updates may come with a learning curve. Fortunately, chief engineer Rob Ruccia has had the pleasure of being a beta tester for both Pro Tools 9 and 10, in fact his name resides in the credits. Six months before Avid (Pro Tools' parent company) had released the software, Ruccia was helping shape it into the finished product. "Working at Uptown on these new versions with people who know how to use them, gives us the edge over those studios stuck in the older versions," say the folks at Uptown, "while [needing to] learn the newer ones." Uptown currently runs the latest Pro Tools HD10 and HD9 software featuring HEAT, which gives bands the ability to add a sonic "big mixing board sound" without the big price.
Gravity Studios in Chicago has added a new member to its engineering and production team. Jameel "The Real Deal" Harris is a veteran of the Chicago recording community with a sterling reputation for top quality mixes as well as being a voice of experience and reason in the midst of a crazy industry. Owner Doug McBride says Harris' specialty is programmming, producing, and mixing hip-hop.
The Damn Bats, consisting of locals/former Rabid Bats, Reaganomics, and Bill Ura Dik members plus veteran British drummer Rat Scabies (The Damned), tracked two songs of which one was finished by Scabies at ALASKA STUDIOS in London, England. The demo for "Doomed" was then returned to Chicago so guitars, bass, vocals, and final mixing could be finished.
Hey Studiophiler: To get your studio or band listed in "Studiophile," just e-mail info on who you're recording or who's recording you to ed [at] illinoisentertainer.com, subject Studiophile, or fax (773) 751-5051. We reserve the right to edit submissions for space. Deadline for February 2012 issue is January 15th. We need your news, you need us to print it.
Category: Columns, Monthly, Studiophile