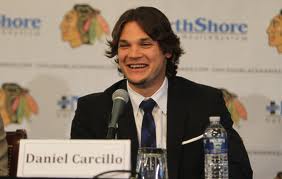 Back in 1979, half of Chicago tuned into Wally Philips' popular WGN-AM (720) morning show. That year, newcomer Steve Dahl released his song parodying the venerable Philips and his loyal listeners, "Oh Wally."
Thirty-three years later, the Chicago Tribune-owned station hardly resembles your grandparents' WGN.
The shakeup that put Jonathon Bramdmeier into the morning driver's seat, simultaneously sent his old producer Bud Wiser packing, and moved Bill Leff to overnights has the station – with Garry Meier doing afternoons – starting to resemble your parents' WLUP during its early-'90s all-talk heyday.
The shakeup also included the ouster of Greg Jarrett, whose local mispronunciations did not endear him to listeners, and husband-and-wife hosts Steve King and Johnnie Putnam, whose overnight show included live, in-studio jams with visiting bands.
But all is not lost, music-wise.
That same week, vice president and general manager Tom Langmyer quietly ushered in a startling new hire for the staid station: a foreign left-winger with Bad Jibs and no radio experience, who is actually under 30.
The newcomer is Chicago Blackhawks forward Daniel "Car Bomb" Carcillo, who hails from Canada and was born the same year Wally Philips moved to afternoons, in 1986.
Carcillo's one-hour music show, "The Bomb Shelter," airs sporadically on the station after weekend home games. (For more, visit wgnradio.com).
Car Bomb's music obsession dates back to when he was elementary age, and played a cassette of Michael Jackson's "Black Or White" until he wore it out.
"I had a white boom box by my bed, and shared a room with my younger brother," he explains. "He got that song stuck in his head as well – whether he liked it or not. I always remember that. I had pretty strict parents. I was about 7. But I always blasted it when I was getting up and going to bed. I liked that track, and the intro of the guy banging on the door, telling him to be quiet."
Carcillo's father, Gino — who named his son for the Elton John song — appeared on his first show. They talked about music and the family's history in Monte Cassino, Italy – which was ravaged by World War II. "I was digging around trying to find out why I have this fascination and love for music," Carcillo says.
"[My father] went into the history of my great great-grandfather going around when the war was going on. He had a little music box and a monkey and the whole deal, and that's how he'd make money during the war – he'd go under people's windows and he'd play music and they'd throw money."
These days, Carcillo's taste tilts more towards classic rock than organ grinder or MJ. "I'll never get sick of it," he says, and rattled off some favorites ranging from the Allman Brothers to Led Zeppelin. As for new bands, he likes Arcade Fire, My Morning Jacket, and The Black Keys.
Carcillo says he was blown away by WGN's massive vinyl vault. "It's kind of overwhelming walking in there. There has to be over 5,000 records. It's exciting to be able to pick a shelf and sift through it and play the records you find in there – from The Beatles to any motion picture you want from the '30s, '40s, and '50s. It goes back a long way."
He hopes to do an all-Canadian band show, featuring bands like Bachman Turner Overdrive, Rush, The Guess Who, Neil Young and Tragically Hip.
"Every Canadian hockey rink you go to, it's the Tragically Hip playing," he says. "They're an amazing band – I love them a lot. It'd be nice to play them on the radio."
He's thrilled to be playing hockey for one of the Original Six teams, and playing music on a heritage station that dates back to 1924. "To have the opportunity to express myself away from the rink is pretty amazing. To have the organization fully behind you is a big honor."
ODDS 'N' SODS: The Vocalo.org radio show "Morning Amp!" was recently picked up by two college radio stations, Loyola's WLUW-FM (88.7) and Elmhurst College's WRSE-FM (88.), which probably quintupled the latter's audience. Not that there's anything wrong with the show, which is hosted by local comedian Brian Babylon and radio producer Molly Adams. But shouldn't that prime-time air space be reserved for the kids – whose tuition finances it? . . . Steve Dahl recently added a weekly 60-minute podcast by the recently canned Kevin Matthews, which is included in the monthly podcast price. More at www.dahl.com . . . Numero Group recently released a CD called Eccentric Soul: The Nickel & Penny Labels, featuring 24 songs produced or written by local radio legend Richard Pegue . . . The best thing we've seen lately is the return of MTV's "Beavis And Butthead" – particularly when they lampoon Mike Judge's other great creation, "King Of The Hill" . . . The best thing we've read lately is a lively discussion of weathercaster body language on the Chicagoland Radio And Media Bulletin Board. The consensus? That some local female weathercasters lean backward and arch their backs, accentuating certain assets, while some males lean forward , hiding their paunch. The solution? "Straighten up!" More at chicagoradioandmedia.com.
— Cara Jepsen