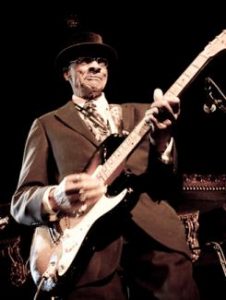 Hubert Sumlin was one of the greatest blues guitarists of his generation. Famous for the explosive guitar riffs that he produced as a member of Howlin' Wolf's band, Sumlin influenced such rock-guitar gods as Eric Clapton, Jimmy Page, and Keith Richards. His 80-year journey began in the Mississippi Delta and took him across the world to leave his impression on scores of blues fans until his death on December 4th.
A self-taught guitarist with a natural gift for rugged tones that evoked great emotion, Sumlin gravitated toward his instrument as a child growing up in Arkansas and never broke from its orbit. He played with James Cotton at local functions while a teen, and grabbed his first peek at mentor Wolf by climbing on top of a stack of boxes under a juke-joint window. The boxes tumbled and Sumlin ended up falling onto Wolf's head. It was a telling meeting for two musicians who would help define the Chicago blues sound.
By the early '50s, Wolf sent for Sumlin to join him in Chicago, where he was recording for Chess Records. Wolf's sprawling and outsized vocals quickly captured attention, but it was Sumlin's stinging guitar that sealed the deal on classics like "Smokestack Lightning," "Backdoor Man," "Red Rooster," and "Goin' Down Slow." He played with Wolf for 20 years, interrupted only by a brief stint with Muddy Waters and finally by Wolf's death in 1976. Sumlin left Chicago shortly afterward, eventually settling in New Jersey where he crafted a solo career that included expansive touring and recording. His albums garnered four Grammy nominations, most notably 2005's masterful About Them Shoes (Tone-Cool), which attracted acolytes such as Richards and Clapton as sidemen. Sumlin was a musician's musician who earned never-ending respect from his peers. He never gained the fame of Wolf or Waters, but when he passed away from heart failure, the music community immediately poured out accolades. Mick Jagger and Richards rushed to pay for his funeral in Homewood, as a way of giving back to the man who had given so much of his life to spreading the love of the blues.
Big James & The Chicago Playboys expand on the Chicago blues tradition with their free-wheeling recent release, The Big Payback (Blind Pig). If that title calls to mind James Brown's seminal record, that's exactly the point. There's a cover of the seminal tune on the 10-track CD, but the title also alludes to the horn-driven, funky blues that fills the album, which owes a lot to the Godfather Of Soul. Recorded live at the Lionel Hampton Jazz Club in Paris, the exuberance spills out of every note.
Opening with the energetic party anthem, "The Blues Will Never Die," the tune showcases the band's upbeat style with brass decorating every beat and personal lyrics like, "Sometimes people look at me with scorn/but I don't care/I was born to play the horn." On another original, "Coldest Man I Ever Knew," the band offers straight-ahead blues and a killer guitar solo at the end. The title cover track isn't as successful, with a perfunctory reading and an uninspired arrangement. But the irresistible groove is still there, which is the only thing that saves it. Magic Sam seems to inspire the group in terms of soulful covers; "All Your Love" delivers all the verve and grit required of the legend's classic, and "That's Why I'm Crying" calls up some pure blues with broken-hearted and anguished vocals by frontman Big James Montgomery and an evocative guitar solo by Mike "Money" Wheeler.
BJCP deliberately mine all the branches of the blues, touching on soul, funk, and rock and it's nice to hear these connections firmly couched in the blues tradition. The Johnny Taylor hit, "Jody's Got Your Girl And Gone," sounds just as infectious as the soul blues original and an interesting cover choice of George Clinton's "I'll Stay" simmers with haunting funk rhythms. Montgomery ties it all neatly together with his take on the classic Chicago sound, "Low Down Dirty Blues." The album closes with the rather gratuitous "Smoke On The Water," adding a bluesy, horn-driven feel to the rock staple.
For those who believe that the blues has been lost or is weighed down with outmoded traditions and sensibilities, I have three words for you: Joe Louis Walker. Always a stellar performer and musician, his decades of skill and passion have been hammered into one tightly crafted, explosive package that should be called The Truth. Hellfire (Alligator) inaugurates the blues new year with a near-perfect collection of riveting blues. The 11-track CD was recorded in Nashville and there's a country undercurrent that runs throughout, underscoring the clear but often overlooked connection between country and blues. But this is no gimmicky crossover ploy – everything on the album sounds organic and honest.
The battle between salvation and damnation is the theme of Hellfire and, although it's a well-worn blues topic, JLW supplies the personal history of the journeyman who has moved between both the secular and the gospel world. From the searing title track that opens the set, it's clear that Walker is on top of his game. His phrasing is crisp yet powerful, his guitar precise yet transcendent. That's just the first song.
Most that follow, from the moving "I Won't Do That" to the rollicking "I'm On To You," provide the same perfection. "Soldier For Jesus" is more country-tinged gospel than blues and the backing by the legendary Jordanaires just makes the tune sound more of a throwback, but JLW's conviction is palpable. The honky-tonk groove of "Too Drunk To Drive Drunk" offers a fun riff, and "Black Girls" provides the slyest humor yet: "The blues I've been hearing lately/sounds a lot like rock 'n' roll/and I wondered what happened to all that soul/you got to have the black girls/to put the soul back in your songs." If fresh, innovative music like this is what we have to look forward to, it will be a good year, indeed.
— Rosalind Cummings-Yeates
Category: Columns, Monthly, Sweet Home