The Skye Is Falling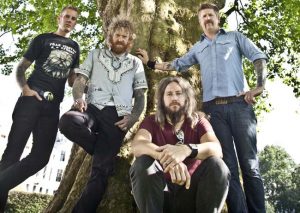 It's 9:30 p.m. on a Friday. Mastodon drummer/vocalist Brann Dailor is having dinner in his hometown of Atlanta at a joint called The Rusty Nail. With his wife. Illinois Entertainer is interrupting. Obviously.
Appearing: November 13th at Riviera Theatre in Chicago with Dillinger Escape Plan and Red Fang.
"They said, 'Hey, you wanna do an interview on Friday night at 9:30?' I said, 'Hell yeah, sign me up,'" Dailor jokes to make us feel better. We think.
Fact is, we feel awful about stealing Dailor away from his meal, his wife, and the Led Zeppelin on the jukebox. But it ain't easy scoring an interview with Mastodon nowadays. Seventy-two hours earlier, the heavy-metal heavyweight released its fifth full-length, The Hunter (Reprise). Five days after we talk to Dailor, Billboard announces that the 39,000 copies it shipped in the United States are good enough for 10th on their main album chart. That same night, Mastodon performed The Hunter's first single, "Curl Of The Burl," on "The Late Show With David Letterman."
See where we're going, here?
Basically, we were lucky to talk to Dailor when we did, 'cause The Hunter is hot shit. Any doubts or questions about whether Dailor, bassist/vocalist Troy Sanders, guitarist/vocalist Brent Hinds (that's three vocalists if you're scoring at home), and guitarist Bill Kelliher could follow up 2009's Crack The Skye, The Hunter shoots them down. There is riffage ("Blasteroid"), brutality ("Spectrelight"), beauty ("The Sparrow"), groove ("Curl Of The Burl" is ZZ Top on a metal trip), and, simply put, weird-ass shit ("Creature Lives").
What there isn't, is a concept. So technically, not all expectations can be thrown out the window because, who didn't expect another massive, soaring, epic "concept album" from Mastodon? It's been the Southern group's modus operandi for some time now, dating back to its 2004 breakout, Leviathan. It, Mastodon's "water" record, was loosely based on Herman Melville's Moby Dick. Blood Mountain, from 2006, was its "earth" record, and Crack The Skye, about astral travel (and Rasputin!), its "air."
The Hunter? Well, it's just an "album" album. No one song answers to another, giving Dailor and co. the option of going wherever the hell they want from one track to another, which is exactly what they do. "It was really kind of freeing, you know? We had done three concept records in a row, and they are very hard to do," Dailor says. "They are very labor intensive, and you have to come up with the storyline; you have to try to build some sort of continuity without losing the way the record flows. It's a fine line. It's not easy. It's really stressful."
Try interrupting someone's dinner with a half-hour of questions.
IE: Was it strange, initially, writing songs that weren't intertwined thematically?
Brann Dailor: No, not really. It was a lot easier, to be honest. It was way easier. It was almost like we didn't even have to try. [Laughs.] No, we still had to try, obviously. It was a breath of fresh air for sure, when the decision was made not to do a concept album. I had already come up with a concept. My feelings were that's what everyone expected from me, to come up with a lofty concept. I liked what I had come up with, but it needed some work. I went and shared it with the class, basically, and everyone dug it, but when we really started digging in and started writing, I think it was Brent who came up and said, "Dude, do we have to do another concept album?" I was like, "No, we don't have to. We don't have to do anything. Do whatever we want, you know – no big deal.
IE: So was it right there on the spot you decided to pull back the reins, so to speak?
BD: We decided to take a more stress-free approach to writing the record in the first place. There was a lot of stress surrounding the band, like personal things that were going on with different band members that were stressful enough. Whereas previously when you went in to write a Mastodon record, it's a really stressful thing because you have concepts involved and really intricate song structures, and you're in there every day banging your head against the wall trying to link up all these riffs that really don't belong together – which is fun, to an extent, and also labor-intensive, and you're there every day all day long trying to work it out. It's stressful. You go home at night and you can't sleep. Not that that was different this time around. I was stressed out, but more stressed out at what was happening at the outside of Mastodon. Then when we got in there and started writing music, we just sort of decided not to let that part of our lives be stressful and go from the gut as far as what we were writing music-wise. Like, three or four riffs strung together is a pretty basic rock song. Record it, put some vocals over the top, and yeah, we like that. On to the next song. Instead of really trying to be, "Oh, it's not complicated enough." We didn't really crave that this time. It needed to be more of a fun release.
IE: How hard would it have been to top Crack The Skye as far as super-epic, super-proggy, super out-there, anyway?
BD: I don't know. For us, we don't think too much about previous releases once we start working on new music. We are just sort of consumed with the music that is being created at hand, not really even . . . the music that happened before is gone. It just doesn't even exist. We want to sound like us still, but we definitely don't want to be retreading. We don't want to be running in place. We wanna hear something new, you know? We've had that same question after every record. How are you going to top Remission? How are you going to top Leviathan? How are you going to top Blood Mountain? So on and so forth. I guess the answer is that you just don't really pay attention to those records once you go in to write new stuff. You just write new stuff and trust yourself to police yourself in the same way, and you're gonna travel down all those musical roads that are offered up, I guess. You can talk all day about what kind of record you wanna write, but then when it starts coming to life, it definitely takes on a life on its own. I think you'd be doing that particular music injustice to stop mid-stride and say, "Oh we can't do this. We can't write this. We can't play this song because it's not Mastodon." We're playing it, we're liking it, so there must be a reason for that. You need to go all the way down that road, otherwise you're not really doing what you want to do. You're kind of letting the possibility of someone else's opinion govern what your art sounds like and looks like. That's not fair.
IE: "Creature Lives" is a good example of what you're saying. Is that the weirdest song Mastodon has ever released?
BD: I guess that's a good example of a song where, it's really, um, I just think it's a really great thing that [song] can live on a Mastodon record and be a Mastodon song and, in some people's eyes, have the audacity to call it a Mastodon song. In other people's eyes it's something fantastic. The guys in the band, we really love it. We welcome it into the catalog as something that could spark music in the future from us that, maybe wouldn't sound exactly the same, but another musical avenue that we're interested in. I just think it's cool to have stuff like that in there. Once it's all said and done and Mastodon goes away, hopefully the catalog, and the type of music the catalog is representative of, is vast and extremely varied.
IE: Sticking with this theme, "All The Heavy Lifting" seems like one of the catchiest songs you guys have ever done. Troy's vocals are amazing on that tune. It seems every album he makes leaps and bounds as a vocalist.
BD: Yeah, that's pretty catchy, I guess. Troy is awesome on the record. He killed it for sure. He worked really hard and took voice lessons and stuff like that, so he's been working hard on his vocals. He's stepped up on this record. The last record Brent sang a lot, so Troy was like, "I'm gonna sing a lot on this record." [Laughs.] It's not as cut-and-dried as that, but it was kind of the idea to get more Troy in there for this record. But yeah, he did a great job and that chorus is pretty infectious, I'd have to say.
IE: How do you work out the vocal parts with three of you singing now?
BD: It's real diplomatic. A lot of times when we're writing, we already have a vocalist in mind for a certain part. Like for "All The Heavy Lifting," I went in and laid the groundwork for it, but we knew Troy would sing over top of it. For "Thickening," we knew Brent had an idea for that part, and for like "Dry Bone Valley" I went in and sang it and everybody dug it. We all admire each other's vocal stylings, and basically, a lot of times, it comes down to whether you are able to pull it off live. "Can you sing that and play it at the same time?" If someone is dying to sing something, we're going to let them.
IE: And how about the mandatory Scott Kelly [Neurosis] appearance?
BD: Well Scott's just a great person and a good friend of ours, and he's a huge inspiration on the band. We've said it many times before, but if it weren't for Neurosis there wouldn't be Mastodon. Any time we can get him to sing on something, it's definitely welcomed. But we wouldn't shoehorn it in there. We have to sort of hear it on a part. We wrote "Spectrelight" and weren't sure that song was really going to come together. But once we were in the studio, Bill came up with a couple different parts to add to the two parts I had, and we just kinda slammed it out. It ended up being pretty killer. Then we gave it to Scott to see if he would be interested in doing something on it, and he was all about it.
— Trevor Fisher
For the complete interivew, click the November issue's cover thumbnail, or grab a copy free throughout Chicagoland.