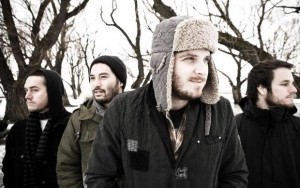 Towards the end of Thursday night's sold out show at the Metro, Thrice frontman Dustin Kensrue looked back upon his band's history with the venue. As it turns out, the Metro served as the first stop of the group's very first national tour, a full decade ago. The anecdote, alongside the band's setlist at October 27th's show, both served as reminders of Thrice's longevity as well as the act's ever-expanding catalog.
In town behind this year's Major/Minor full length, Thrice took to the stage to deliver a succinct but satisfying set that visited the act's various eras. Newer and more melodic fare like "Call It In The Air" proved building and sweeping, with a steady tempo giving way to cathartic collapse and a chorus fueled by an unsettling urgency. Elsewhere, more classic selections like "Silhouette" brought out Thrice's harsher edge, with Kensrue alternating between screaming and guttural deep-throat growls. Similarly, the heavy "Cold Cash And Cold Hearts" made effective use of low-end chugging guitars and guitarist Teppei Teranishi's backing vocals. Major/Minor's "Treading Paper," meanwhile, came across tuneful and spacious, with the band awash in a golden light during the performance.
Thrice's performance achieved a few obviously desirable goals, between its highly sold-out status and set filled with crowd-pleasing offerings. But beyond those victories, the night served as testament to the quality of the band's body of work, as it switched effortlessly between sounds either aggressive or atmospheric, if not both. A decade after its national launch, Thrice came back to show just how far they've come.
— Jaime de'Medici
Category: Live Reviews, Weekly